WVSS Welcomes Hartley Bay!
February 22, 2017 - 3 minutes read
West Vancouver Secondary School is proud and excited to both welcome and host staff and students next week from the Gitga'at Nation in Hartley Bay, BC. ArtWest45 teacher Jackie Wong has undertaken an art-based community project connecting youth from the distinct communities of West Vancouver and Hartley Bay. Entitled Gitga'at and West Vancouver Youth: Mural of Merging Voices, the collaborative art project will engage students, inspire them, and build awareness of each other's diverse cultures.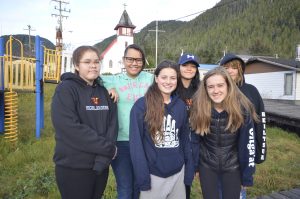 ArtWest45 students Isabel Gallant and Megan Roxby (front right) visited Hartley Bay earlier this year and made friends with some of the youth who are coming to visit next week!
This innovative project will create meaningful discussions of reconciliation and deeper understandings of the other's culture and community. The purpose of the project is two-fold. Firstly, it will connect two distinct groups of youth from Coastal BC to build a deeper understanding of their unique cultures and the lands they live on. Secondly, the youth will work together to create something that will celebrate their attachment to the land and their country.
Sample preliminary panels prepared by artist Cori Creed 
The result of this collaboration will be a large mural project for public exhibition at the West Vancouver Museum, Harmony Arts Festival, and tentatively the Museum of Northern BC in Prince Rupert. The mural is expected to be comprised of 8 or 16 4′ by 8′ panels with a photography base and additional layers of paint, pen, charcoal, found objects, and other medium. Professional painter and local artist Cori Creed will work alongside the students to provide guidance, support, and input. We are appreciative of her involvement!
Next week staff and students from Hartley Bay will be in our school and community. In April 2017, staff and students from ArtWest45 and WVSS will be visiting Hartley Bay to reciprocate the exchange.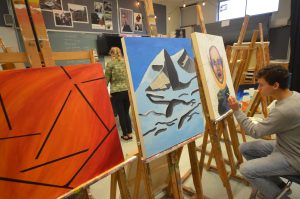 WVSS grade 12 ArtWest45 student Raine LeMay works on a painting in class
Funding for this initiative is largely through the successful application for grant monies made available through the Canada 150 Fund, designed to support and celebrate Canada's 150th birthday. It is the aim of the students to present the final work in Ottawa as a birthday gift to Canada. Additional sources of funding were generously made available by the West Vancouver Community Foundation, and West Vancouver Artists Foundation. Thank you for your support!