West Vancouver Secondary School
PAC Events, Projects and Committees
Create a Free-Range Community for Children of All Ages
Tuesday, October 22nd @ 6:30 - 8:30pm, Kay Meek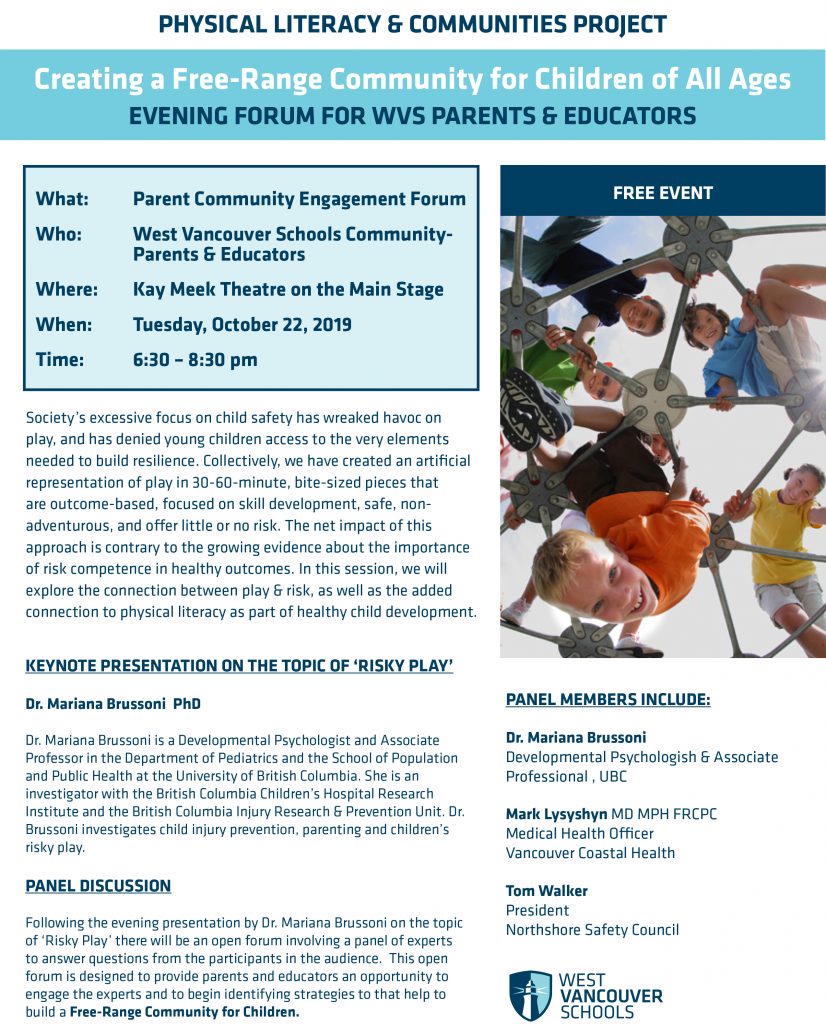 Dreaming of Great Sleep for your Family?
Tuesday, March 12th @ 7pm, Kay Meek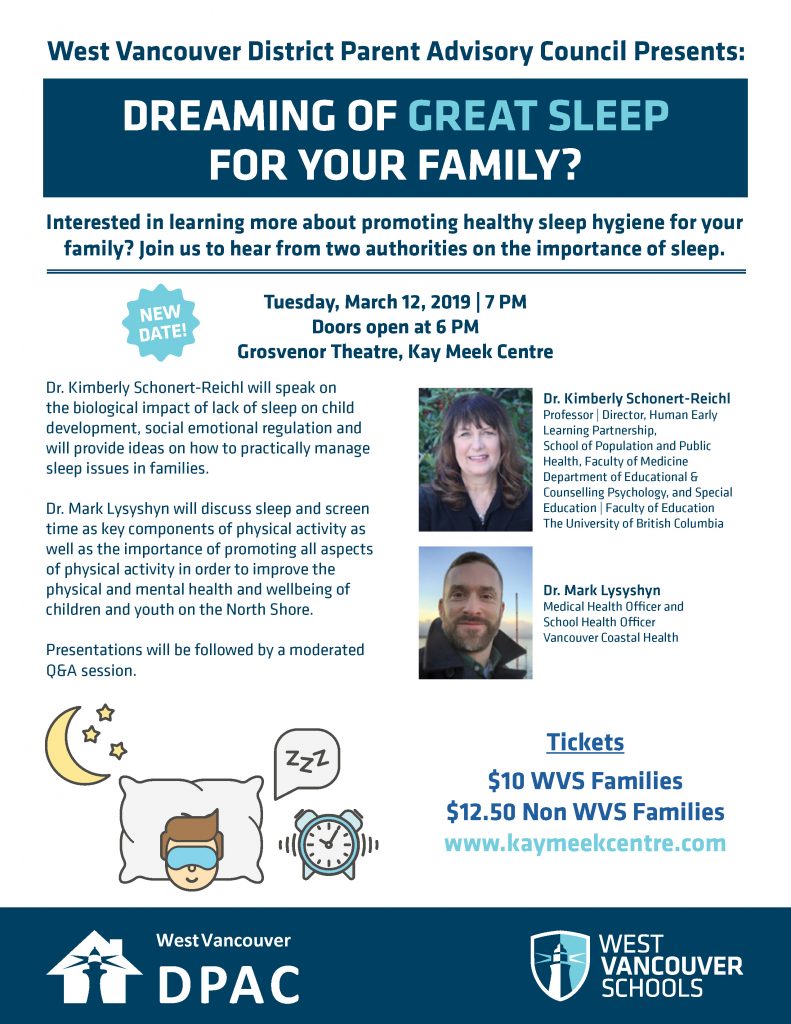 WVSS PAC General Meeting & Guest Speaker, Liz Hill
Wednesday, March 6th @ 7pm in the WVSS Library
We welcome all WVSS parents to the PAC General Meeting to learn more about the new schedule plans and changes to Career Education which is part of your children's school curriculum.  Liz Hill is the Director of Instruction for the West Vancouver School District and is overseeing the changes to Career Education and schedule change. She will explain the changes and address the implementation and answer questions.
The meeting is a general meeting and the WVSS PAC budget will be passed.  The budget is available for viewing in the WVSS website here.
Notice of PAC AGM
Friday, June 22nd @ 9:00AM
The WVSS PAC AGM will be held on Friday June 22nd at 9am in room C303.
The nominees for the PAC executive for 2018 – 2019 will be put forward and nominations will be open from the floor. Year-End Reports will be presented and dates for next year's meetings will be set.
All parents are members of the PAC and encouraged to attend this meeting.
For more information, please see
Newcomer Parent Tea for Families New to WVSS
Tuesday, March 6th @ 8:30 - 9:30 AM
Newcomer Parent Tea for families new to WVSS
西温中学新家庭家长茶话会
March 6, 2018 from 8:30am – 9:30am
2018年3月6日上午8:30-9:30
Please join us for tea and to learn about school operations, parent involvement and how to support your child at school.
请加入我们的茶话会,了解学校的运作、家长的参与以及如何支持孩子在学校的生活。
_ _ _ _ _ _ _ _

PAC Meeting - Topic: E-Cigarettes and Vaping
Tuesday, February 6 @ 7 PM , WVSS Library
You are all invited to the general PAC meeting scheduled for February 6, 2018. We will meet in the school library at 7pm. There will be a special guest presentation from the Regional Tobacco Reduction Coordinator from Vancouver Coastal Health on the topic of E-Cigarettes and Vaping.
Next WVSS PAC Meeting
Tuesday, December 5 @ 9 AM , WVSS Library
The next WVSS PAC meeting is scheduled for Tuesday December 5 at 9:00 AM in the school library. In addition to voting in the PAC Executive for 2017-18, Principal Steve Rauh will give his Monthly Report and there will be a special presentation from Superintendent Chris Kennedy on "Current and Future Directions in West Vancouver Schools".
ALL PARENTS AND GUARDIANS are invited.  We look forward to seeing you there!
Executive Functioning Skills: Concrete Tips to Help Your Child Organize, Time-Manage and Plan
Tuesday, October 19th presented by Sarah Ward
About Sarah Ward, MS CCC-SLP
Sarah Ward, M.S., CCC/SLP and Co-Director has over 20 years experience in diagnostic evaluations, treatment and 
case management of children, adolescents and adults with a wide range of developmental and 
acquired brain based learning difficulties and behavioral problems not limited to but including:
Attention Deficit Disorder
Verbal Learning Disabilities
Non-Verbal Learning Disabilities
Asperger Syndrome
Other Social-Cognitive Learning Disabilities
Traumatic Brain Injury
Acquired Brain Injury
Her particular interest is in the assessment and treatment of executive function deficits.
Sarah also provides consultation and expert witness testimony regarding the symptoms and functional 
presentation of deficits associated with brain based learning disabilities and the appropriateness of 
academic placement and treatment programs.

She became a specialist in the assessment and rehabilitation of traumatic brain injury with an 
emphasis on the treatment of executive functions. She subsequently began to train graduate students 
in speech and language pathology, medical and special education professionals on the symptoms and 
treatment methods to improve the language, cognitive, executive function and social skills of brain 
based disorders.
Sarah is a Past President of the Massachusetts Brain Injury Association,  member of 
the Massachusetts Acquired Brain Injury Advisory Board and the National Institutes of Health Model 
Systems Traumatic Brain Injury Grant Advisory Board and is a member of the American Speech and 
Language Hearing Association.  She holds a faculty appointment at the Massachusetts General 
Hospital Institute of Health Professions where she provides instruction to graduate level students in the 
assessment techniques, development of therapeutic objectives, and intervention strategies for 
individuals with traumatic brain injury.
Sarah is dedicated to developing innovative treatment strategies and educating the community to 
understand, care for and celebrate the learning and behavioral based differences in individuals with 
brain based learning differences.

 A popular speaker, Sarah regularly presents locally, nationally and internationally on the topic of executive functions 
to a variety of professional and parent organizations, school and lay groups.
To learn about what Sarah will be talking about on the 19th, please visit https://www.sharonselby.com/self-regulation/executive-functioning-skills-concrete-tips-to-help-your-child-organize-time-manage-and-plan?v=4326ce96e26c