Sentinel Secondary School Programs
Work Experience and Apprenticeship
What is Work Experience and Apprenticeship?
Work Experience & Apprenticeship
These programs integrate classroom theory with practical experience in the community and workplace in an effort for students to gain practical skills and to explore possible career options.
There are hundreds of work experience opportunities which include banks, hotels, ski resorts (free ski pass), auto repair shops, schools, investment firms, aquariums, dentists, medical research laboratories, computer technician offices, the SPCA, lawyer firms, retail stores, restaurants, engineering firms, and architectural firms. Whatever your career interests are we will work together to find a suitable placement.
Work Experience provides students with the opportunity to
Explore personal interests and abilities.
Practice knowledge and skills in a work environment.
Develop connections between goals, school studies, and career fields.
Observe and participate with adults working in the field of career interest.
When a student is enrolled in WEX 12A, a 4 credit course, it includes
The Work Experience component out-of-school: 90-120 hours of volunteer work or job shadowing in the community in an area of interest.
Ongoing personal reflection: keeping a Journal and Summary of Hours.
Work Experience is timetabled as a Lunch-time block, Block L. You will meet with your teacher on a regular, flexible basis and complete a series of classroom assignments on topics such as: workplace safety, employee skills, resumé writing, and interview skills. During this time, you will also work with the teacher, to plan the work placement and make telephone calls with the teacher to set up your placement.
Work Experience encourages students to
Find answers to career questions.
Explore career options through work experience placements.
Make connections between school and work.
Reflect on experiences and set new goals.
Upon completion of Work Experience, a student will receive
A Work Experience certificate from the School District.
Skills and knowledge necessary for entry level employment in the specialty field.
Background and course work necessary for entry into related post-secondary programmes.
Possible preferential admission to some post-secondary institution programmes.
WORK EXPERIENCE 12A and 12B (WEX12A, WEX 12B, 4 credits each)
These courses are 4 credit elective courses in which the student completes 90-120 hours of volunteer work or job shadowing in the community. The timing of these hours is completely flexible: during school, after school, weekends, holidays, Professional Days, Spring Break, etc. Initiative is a key ingredient for success in this course. Teachers set up the placements after careful consultation with the students. Students are evaluated based on: employer feedback, communication, summary of hours and a journal of work experience and a number of assignments done at certain times of the year. Grades will be given in the final report card in June. Some of our students complete their hours in the summer after Grade 10 (or Grade 11). Prior to any placements, the student must see the career resource teacher.
SECONDARY SCHOOL APPRENTICESHIP (SSA, 11A, 11B, 12A, 12B – 4 credits each)
This series of courses is a career programme that allows students the opportunity to begin an apprenticeship while still in high school, and to earn wages and high school credits, for doing so. One hundred and twenty hours of paid work equals 4 credits to a maximum of 480 hours for a total of 16 credits. Students secure a paid job with a certified journeyperson in that trade, and become registered with the Industry Training Authority.
This is a special programme for a student who wishes to graduate while working part-time and developing a career through apprenticeship.
The student is eligible for a $1000 scholarship upon graduation if he/she maintains a C+ overall average in Grades 11 and 12.
Within 3 to 5 years, the student will be a trained journeyperson in his/her chosen field making excellent wages.
Examples of designated trade categories include: Aerospace, Construction, Electronics, Automotive, Graphic Arts, Horticulture, Forestry, Motion Picture & Theatre, and Hospitality.
For more information or to enroll, students are encouraged to visit the Career Resource Centre/WEX Teacher. Students interested in the Apprenticeship Programme are responsible for obtaining their own placement.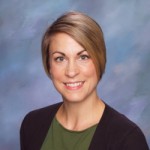 Ms. Casper