Congratulations Mr. Holmes!
December 15, 2016 - 3 minutes read
After 32 years in public education, Mr. Bruce Holmes has announced his well deserved retirement at the end of this month. What is remarkable is that he spent his entire career in the woodshop at West Vancouver Secondary School. Mr. Holmes' presence, humour, positive outlook, and genteel way with his students and staff will be greatly missed. He leaves WVSS in excellent shape as he has built his woodwork program to capacity. In the 9 years that I have known Mr. Holmes, I can confidently summarize his attitude towards teaching as "kids first".
There is no shortage of accolades for Mr. Holmes in his 32 year career. From successful teacher, to distinguished basketball coach, to implementing innovative programs, projects, and equipment into his classroom, to rarely saying no when asked to help out around the school, he is all of the above. Mr. Holmes, however, will be the first to say that he does it for the kids, and this is what has motivated him every day of his time at WVSS.
Fittingly, the best voices to express their most sincere wishes would be from the students themselves. This is what they had to say:
"I think he is one of the best teachers I have had at WVSS. He breaks down the student-teacher barrier, and he is a kind and gentle person. I am very thankful for having had the opportunity to be in his class." – Logan Copeland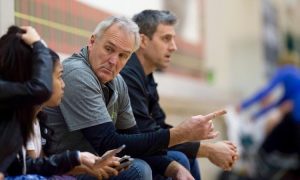 "A student once came in crying; Mr. Holmes took the time to cheer them up and help them." – Madison Duffy
"I have been in Holmes' class since grade 8. Not only has he taught me woodwork, but he has also taught me a lot about life." – Gabriella Langer
"He likes to take you out of your comfort zone." – Ashley Kempton
"We really like his sense of humour; he loves to gossip and threaten to give wet willies." – Nicole Torresan & Alexa Harrison
"I appreciate how he never turns down any student ideas no matter how absurd or impossible they sound. He will always stick with you to help you see your ideas come to real life." – Jesse Diaz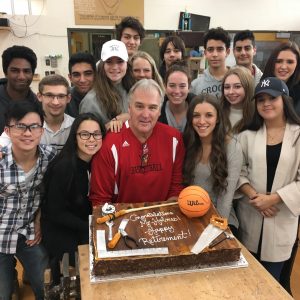 Mr. Holmes, we sincerely wish you all the very best in your retirement! We hope that you will not be a stranger, and hope to see you again in the near future! Peace out, Mr. Holmes (we know you like to say this!)