The Big Dance
March 24, 2017 - 5 minutes read
It's that time of year when March Madness seems to dominant conversations at the water cooler. College teams compete all season to be invited to the 'Big Dance', the NCAA basketball tournament held each year in March. In a blog post written at this time two years ago, I shared my thinking about quality basketball programs producing consistent tournament appearances. Watching this year's tournament and particularly the remaining Sweet Sixteen Teams, I am reminded how giving meaning to rankings is not unlike 'dancing on the head of a pin'.  A weekend in front of the television will leave you somewhat amazed at the 'bracket breaker' games that have highly ranked teams like Villanova, Duke and Louisville dealing with the reality of watching the rest of the tournament from the sidelines.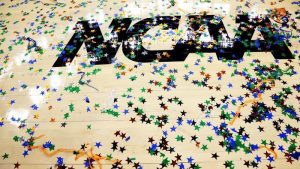 Credit: Ronald Martinez Getty Images Sport Getty Images
Rankings, like those of this year's NCAA tournament, fade as time unfolds. But that should not detract from the more important fact that it was a quality program that brought them the opportunity in the first place.
Just like rankings are only a chapter of the story of the NCAA tournament, every school has much more to its story than its ranking.  Rankings are generated by statistics and are based on achievement in core skill areas (Reading, Writing and Numeracy) for Grade 4 and 7 students. School rankings can easily fail to provide any reliable conclusions about a particular school's overall performance. It is each school's 'story' that provides a meaningful and preparatory elementary education for every child.
I am proud of West Bay's entire story, not just the one chapter comparing it to all other elementary schools in British Columbia. Granted, we have fared well in the rankings over the years, yet what puts the real smile on my face is the learning that is happening in classrooms every day that encompasses far more than the foundation skills.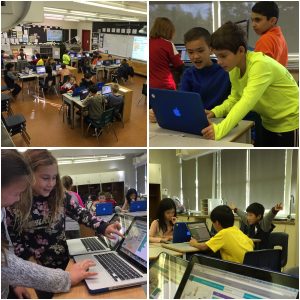 We are preparing our students for a world connected with technology and one that demands people work together productively. It is imperative our schools develop creative and critical thinkers, innovative problem-solvers and effective communicators. For this reason, West Bay has focused on improving students' communication skills for the last three years. It was a broad goal that encompassed different facets of the Communication Competency articulated in the BC Curriculum.
Students set meaningful goals based on their identified areas of growth, reflected on their goals and continuously monitored their progress. They had many opportunities to learn from experts and mentors, often using technology to connect with others beyond our community. There were many times when they worked with their peers, utilizing their individual strengths to produce a collaborative project. Students learned how to acquire information from a variety of sources and present their findings in ways that would engage their audience.
I can say with confidence that the strategies we implemented these last few years are helping our students be confident, capable communicators. Just recently our Grade 6 and 7 students worked on a modified version of the Ignite format of presenting. With 10 slides rotating every 15 seconds, students shared their interpretation of the theme, "Everyone has a story". The results were impressive. Students were poised, articulate and confident. Throughout the process, they constantly reflected on their progress and performance, sought feedback, and revised their presentations. They were engaged and excited to share their story. When it was over, these young students were proud of their accomplishments.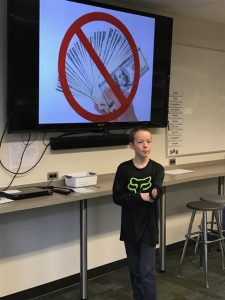 As we near the end of our three year goal, it is time to pivot. We are scanning our learners, looking at what the data is telling us and determining our next steps. We will continue to work on improving students' literacy and numeracy skills as this will always remain an important chapter in our school's story.
Just like quality basketball programs will no doubt find their way back to the NCAA tournament next year, we hope the quality program we provide our students is preparing them to participate in their 'big dance', whatever form that may take.