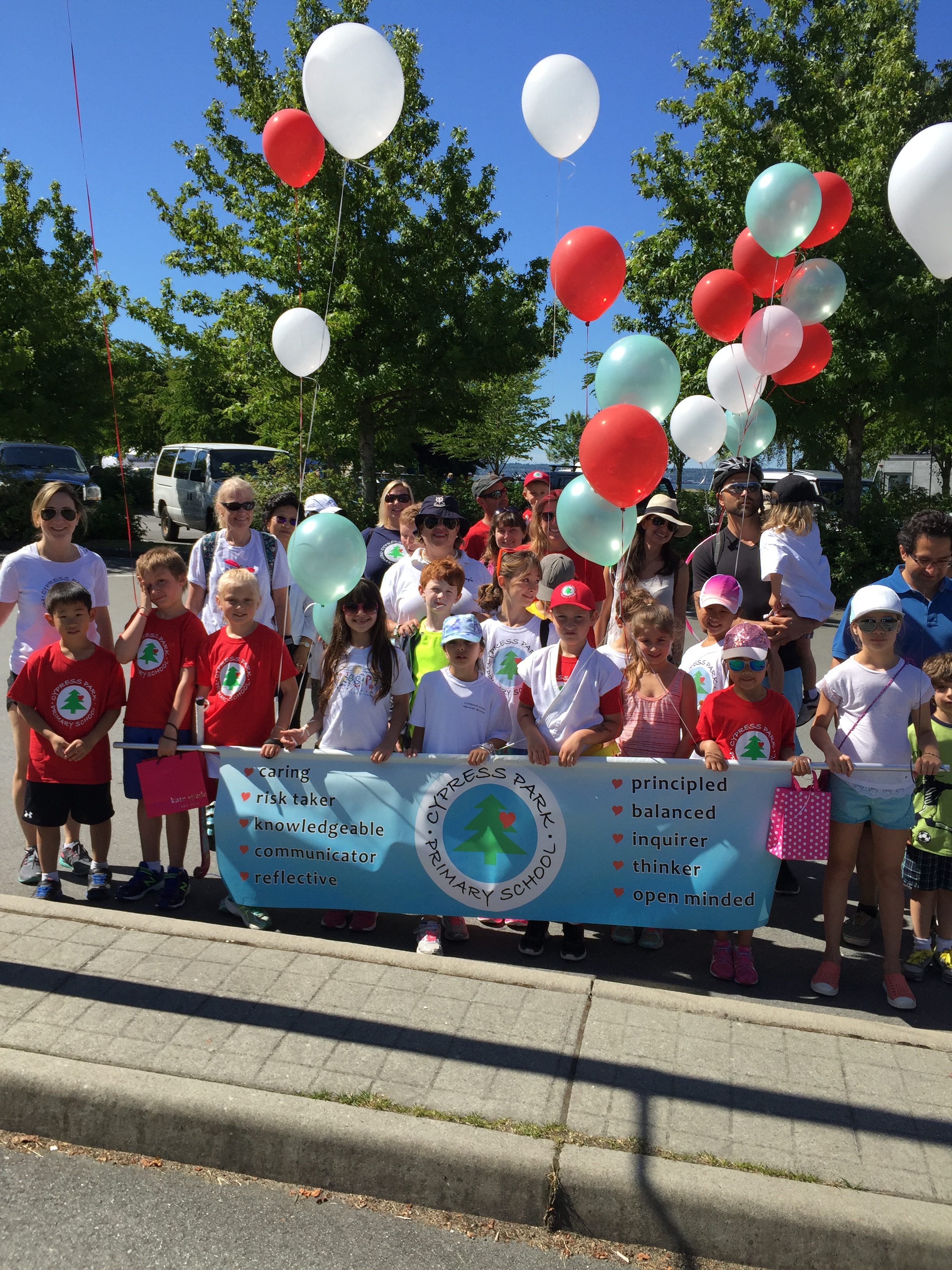 Cypress Park Primary School
PAC Events, Projects and Committees
News and Announcements
Book Fair
The Book fair is a joint effort with Scholastic Books and Usborne Books. The Chair of this event liaisons with the two organizations and appoints a small group to assist with setup, promotions, and event days at the school.
Community Day Parade
Every other year Cypress Park participates in the West Vancouver Community Day Parade. The Parade Chair oversees items such as creative idea, costumes, music, props, and transport and communicates parade day instructions.
Emergency Planning
The Emergency Planning Committee meets three or four times a year and organizes volunteers to educate, purchase, prepare, inventory, store and restock emergency response resources as required by School.
Fruit & Veggie Program
This is a program offered to schools in BC by the Provincial Government. Schools are provided a single portion per student 10 times per school year. A school parent must have a food safe certificate to enable us to participate. The snack is delivered to the school and the parent coordinator distributes it to the classrooms.
Garage Sale
This annual Cypress Park fundraising event generally takes place in the spring. The committee chair liaises with the Vice Principal to secure the use of the gym for the day. Family and friends of Cypress Park are asked for donation items. And volunteers are asked to help with set up and tear down.
Outreach
The Outreach chairperson determines activities that extend Cypress Park's involvement into the community. We try to integrate the students' involvement for educational purposes.
Garden
PROJECT GREENTHUMB CAMPAIGN
Our beautiful front garden exists because of some very passionate green thumbs! Many families will step forward to help with the garden committee.
Grade 3 Leadership
This parent driven committee was originally set up to form a cohesive grade 3 troop, bringing them together to offer a sense of leadership amongst their peer group. Previous activities have included an afternoon camp, puzzle swap and recycling program. Grade 3s have also been asked to help man stations at our Pumpkin Patch as part of this program.
Hot Lunch
This committee chair determines the hot lunch providers, the days of the week the service will be offered, and runs a group of parent volunteers who share hot lunch days. Hot Lunches are available to all families who are interested at an average cost of $5.00. Cypress Park does not run this program as a fundraiser. Parent volunteers are required for hot lunch set up and distribution each week.
Parent Education
Cypress Park allocates funds in our annual budget to support parent education. This committee chair will source out speakers and topics relevant to the parent community.
Pumpkin Patch
Cypress Park holds an annual Pumpkin Patch in mid-October. It has been a wildly successful community event, as well as a significant fundraiser for the school. This event requires a chairperson to coordinate a variety of sub-committees and co-chairs. The chair needs to be able to commit to a number of volunteer hours.
Spring Soiree
One of our two major fundraising events each year, the Spring Soiree is a fun social adult only event featuring a silent auction, appetizer/potluck, beverage and music. While its primary goal is to raise funds for the school, it is also an opportunity to get to know the other parents outside daily school routine. The Soiree Chair promotes the event while overseeing the various sub committees such as art, decoration and silent auction.
Library Assistant
Library Assistants meet with the librarian to find ways to help with sorting and reshelving books and any other task to keep the library fresh and welcoming.
Sports Day
Parents come out to help referee races, cheers the kids on and track outcomes.  Volunteers help serve a scrumptious healthy treat that puts a smile on the kids.