SOGI Education
January 29, 2018 - 3 minutes read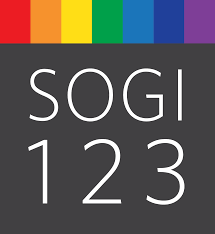 We were very pleased to host special guests Todd Lund and Maureen Lee at our January 2018 PAC Meeting at PJ.  Todd is an elementary school counsellor and SOGI District Leader in West Vancouver. Maureen is the District Principal for Student Support Services in SD45. Both Maureen and Todd introduced themselves using their preferred 'pronouns' and outlined the assumptions made about people based on how they introduce themselves. One of the missions of SOGI is to teach children to love and accept each other just as they are.
Maureen shared a video with the group which detailed the unfortunate experiences of a student, Milan, and his family in Prince George. The video can be found on YouTube and does have a positive turn of events, which speaks to the power of education and awareness.
There are 51 school districts in the SOGI network and West Vancouver was one of the original nine schools. The aim of the network is to ensure that students feel safe in the school environment and feel accepted.
One of the steps that Maureen talked about was challenging the heteronormal narrative; for example changing the term "Mom and Dad" to "Your Parent/s".
For our school SOGI means:
creating a safe space for all where diversity is celebrated;
shifting of language: instead of "hello boys and girls" – "bonjour mes amis!", "good morning everyone", "could you all…", "distinguished guests"…
Maureen also shared a selection of books containing age appropriate messages that were passed around the group.  Some of the parents in attendance spoke to these books as well saying they have them at home and they are useful for many various 'inclusion' conversations with their children.
Maureen stated that, while there are many resources for teachers, there is no set curriculum for SOGI.  It is about encouraging the schools to be more conscious of how common things are presented (ex. family make-ups can be different and that is special). At the district level there are education sessions for staff, senior management and parent presentations such as the one shared at our PAC meeting.
Maureen and Todd shared photos of the Summer 2017 Pride Parade which the West Vancouver School District participated in. Details for participation for this year's Pride Parade can be found on the district's website as it gets closer to the time.
Pauline Johnson's PAC would like to thank Maureen and Todd for coming to talk to us and for sharing this important message.
(Thank you to PJ PAC Parent, Chelsea Duhs, for her minutes and perspective.)