World Teachers' Day 2021
October 5, 2021 - 9 minutes read
UNESCO World Teachers' Day is held annually on 5 October to celebrate all teachers around the globe. It highlights the importance of the teaching profession, and the role teachers play in the development of students and society.
Often when thinking of teachers, we automatically think of our classroom teachers, but not all teachers have their own classrooms. We have teachers at West Bay in a number of different roles: music, French, Physical Education, IB coordinator, and librarian. Today on World Teachers' Day I'd like to highlight a few of these educators and the important role they play in our school system and for our students.
As a classroom teacher your influence and connection with students is extensive, after all teachers and students spend five hours together for close to 200 days in a year. I remember early in my career teaching Kindergarten a parent of one of my students telling me how often she heard her child say "Mrs. Grimwood said…" It was driving her a little crazy. Our non-enrolling teachers (teachers who do not enroll a class) often don't have that same opportunity, but here's where that changes. They get to connect and teach your child year after year after year. They really get to see your child grow and develop and have a sustained and meaningful connection with your child. I think of our school librarian, Mrs. Hunt, who probably helped your child select their first library book long before they knew how to read and then watched as they moved from picture book, to readers, to first novels and onward.
I would like to highlight four of our non-enrolling teachers, whom I recently interviewed.
Mrs. Maryse Belanger, French Kindergarten to grade six
Madame Maryse, as the children refer to her, is new to West Bay, but not to teaching. She has been teaching French immersion for the last six years and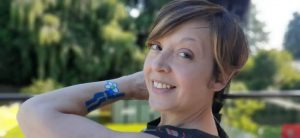 before she was a teacher, she worked in TV journalism and public relations. When asked what she loved most about teaching, she reflected, "When students realize that taking risks is actually opening a world of possibilities to them.  I also feel very fortunate to be able to build strong relationships with students, especially those who need help with self-confidence." Madame Maryse believes in offering choices to children which she feels helps them to feel empowered to think for themselves. Seeing children succeed in what they do reminds her that our students will, one day, be part of a world that is constantly improving due to the strong foundation skills they've developed in school.
Ms. Moriah Gibli, Music grade 3-7 and band
Ms. Gibli hails from Toronto and began her career there teaching high school band. When she moved to the West Coast, West Bay scooped her up and she's been here ever since. This is her fifth year of teaching. She is a passionate educator and a student herself. She has a Bachelor of Music, Bachelor of Education, a Post Graduate Diploma in Special Education, and is currently working on her Master's in Education! When asked about what s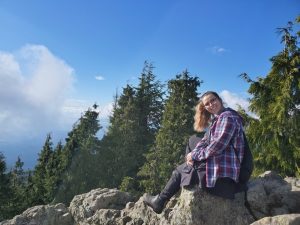 he loves about teaching she stated, "The positive shared music moments. There is something really special about making music with others and when students click with the music. They have fond memories and bond with each other through the arts. There is a shared understanding of joy and fulfillment." The most challenging component of her job is the pace. "I teach 6 classes a day and there is never any down time. Being a music teacher requires high energy levels all the time because you're starting your lessons over every 50 minutes, and each class should have the same level of enthusiasm and excitement. It's always busy!" When reflecting on what brings her hope Ms. Gibli noted that it had to be the kindness students extend to each other. In the most unexpected moments and with small gestures. They are good people. They are kind people.
Mrs. Julie Hunt, Librarian Kindergarten to grade 7
Mrs. Hunt has been with us at West Bay since 1989, working both as a classroom teacher and librarian. "What I love most about teaching is the joy, passion and creativity that the students have. I like knowing that in some small way, I can make a positive difference in children's lives. Hopefully, I can nurture an enjoyment of reading,
model life-long learning, and spark curiosity in our learners." When thinking about what brings her hope Mrs. Hunt commented on our students' energy and commitment to climate action. Additionally, she noted that when students speak about Residential Schools and other injustices, she is heartened by how the students are determined to make a more equitable future for Canada. Mrs. Hunt's job is a lot more than just helping students find a just right book. Sure, she loves to read and expose our students to quality literature (and sometime Captain Underpants), but a big part of library work is building empathy and diversifying our world view, especially through literature. She notes, "I'm not sure people realize how much critical thinking and research skills factor into library time as well." When asked about a memorable 'teacher moment,' our librarian shared, "It absolutely fills my heart to have children greet me in the hallways, the playground, the parking lot, and community. A favourite moment from awhile back was seeing a student absolutely jumping for joy because she found a book with a character that looked just like her. This was such an important affirmation of diversifying our collection."
Mrs. Ligia Oancea, music Kindergarten to grade 2
Mrs. Oancea claims that she has taug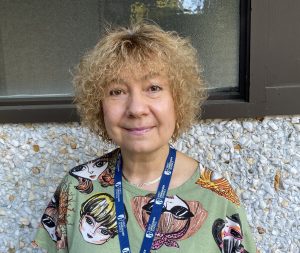 ht music forever! She currently teaches French, music and grade two at two different schools. She received a master of music in Romania, a Bachelor of Education at UBC and Special Education and ESL Diploma at UBC. She hopes she brings love for all the subjects she teaches to her students and helps them improve. "I love the fact that I can make a difference, and every time I succeed, that validates the choice I made to become a teacher. It is one of the most noble profession, filled with responsibilities, rewards, fatigue and surprising fuzzy-warm feelings in your soul when you've got it right. Sometimes you can't believe the results, and it makes you smile from one ear to the other. Other times, you just want to get home and go to bed."  She loves when she hears students humming her songs when they walk in the hallways. Or when a struggling student shares years later, that their favorite subject is the same one that was hard. Or when she sees previous students in the community that remember your name and they want to keep talking to you. "Yes, I think I made the right choice becoming a teacher," believes Mrs. Oancea.
Thank you for helping us to acknowledge World Teachers' Day. Please don't forget, parents, that you are your child's first teacher. Thank you for entrusting us with your precious ones and for modelling, kindness, inquisitiveness, and a community mind-set.