Time flies when you are busy learning!
December 18, 2018 - 8 minutes read
It is hard to believe that the first term has come to a close. Where did the time go? As they say, time flies when you are busy learning! Okay, I know that isn't exactly the saying we are familiar with but it certainly seems like an appropriate way to describe the how quickly the first term passed at West Bay.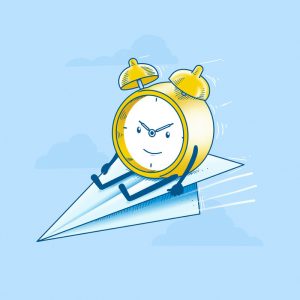 West Bay certainly is a hub of learning! Everywhere you look, students are engaged in learning about themselves and the world around them. The International Baccalaureate Primary Years Programme provides a powerful structure for inquiry through the development of the skills and attitudes needed to be internationally-minded and action-oriented.
As I reflect on the past few months, I can't help but smile when I think of the amazing learning happening every day at West Bay. One of my favourite things is wandering the halls and peeking into classrooms as I never know what amazing learning I will happen upon. I love when students share their learning with me, whether it be a quick chat or showcasing an assignment they are working on. No matter the situation, the joy and pride in the learning journey is clear. I can confidently say learning is joyful at West Bay!
Based on my visits and simply hearing the conversations throughout the community, I know that there are wonderful things happening at every grade level and in every subject. Since I am only one person and I spend much of my time teaching grade six, I decided to get a little help from my team. I asked a few questions to our students and teachers in the hope of being able to highlight just a few of the amazing learning experiences with our larger community.
Without any further delay, from K to 7, the term one highlights include:
Our kindergarten students loved building relationships with their big buddies (the fabulous grade four students). The big buddies helped at recess breaks by playing and keeping their little friends safe. As the kindergarten classes settled into the routines and expectations, they thoroughly enjoyed learning outdoors. They fondly developed a strong sense of place while exploring our amazing outdoor areas.
The highlight in grade one was becoming experts on animal adaptations. Students keenly took action to educate others about animals and proudly sharing their new knowledge with their classmates.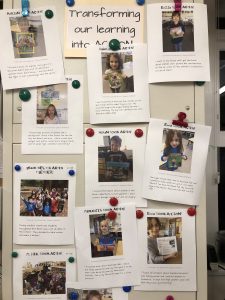 Getting their hands 'dirty' in the garden and outdoor spaces was a favourite experience for the grade twos. The students happily welcomed Mr. Kennedy, Superintendent of Schools, to get in on the action. The grade two's also loved visiting the Seymour Hatchery and exploring strategies to enhance their self-regulation.
Without a doubt, the grade three's highlight was their field trip to Grouse Mountain to the Hiwus Feasthouse. They went for a hike, and then listened to stories told by Kwel-a-a-nexw, a Coast Salish elder.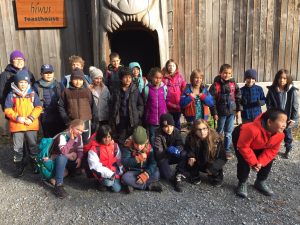 The grade fours enjoyed their field trip to the Britannia Mine Museum. They learned about rocks and minerals from inside the tunnels!  They also loved visiting the Vancouver Maritime Museum to learn about exploration of the Pacific Northwest coast in the 18thcentury and the Arctic. The trip was thoroughly enjoyed by all, with opportunities to get hands-on with navigational tools, go aboard the RCMP schooner the St. Roch and get a glimpse into the life of a real-life explorer.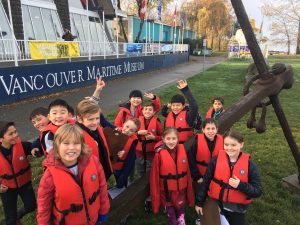 The grade fives had many experiential learning experiences while learning about government. The inquiry into how governance impacts welfare drove the students to take action. The result was hosting the 'Grade Five Holiday Market' to educate others and fundraise for charities that take action for equal rights and education.
The memorable learning experiences in grade six are plentiful. Students will always remember learning about global citizenship and creating their own NGO in support of a global issue. Students also enjoyed finding ways to spread kindness and joy in our school community – from special notes and 'kindmarks' to inspirational pumpkins. While inquiring into how "the interaction between forces impacts society and the environment," the students loved learning through hands on experiments and going to Rockridge Secondary to learn about Newton's Laws from two of the grade 11 physics classes.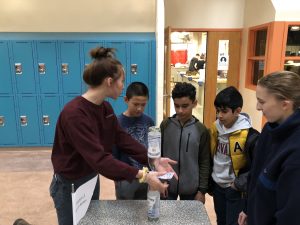 In grade seven, the highlight was delving into the laws of ancient times, specifically "An Eye for an Eye" laws by Hammurabi. The students were so excited to share what they had researched, post videos to our Google Classroom, and even get in friendly debates about whether such cruel laws were effective.
In French, all classes have been thoroughly engaged in language learning. From expanding vocabulary through stories and narratives to throwing celebratory raclette parties, French is alive in our school community!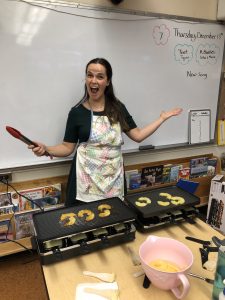 The West Bay halls have been alive with the sound of music this term! From the recorder to finding rhythms, you can't help but hear the learning in Music and Band classes.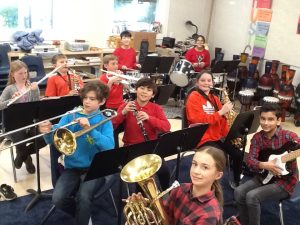 Mrs. Babul has been working with a handful of classes on a special 'Identity Inquiry.' Students have been busy looking at identity, culture and have subsequently created special presentations about their own 3Rs (rituals, relationships and restrictions). It was a powerful learning experience for all involved.
Of course, the learning didn't end there! Our entire school honed their hip hop skills with Troy's BopShop! 16 of our grade six and seven students attended WE Day at Rogers Arena. These students left inspired to take action. I can't wait to see their plans to make a difference come to fruition in the new year. On top of all this, we had many special visitors and presentations to enhance our learning: Paralympic athlete Nathan Dewitt shared his inspiring story; Milton Randall engaged our entire school in drumming workshops; and, Green Thumb Theatre presented "What If."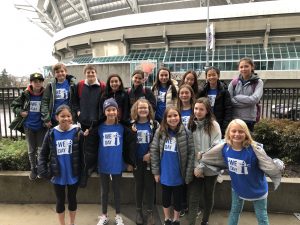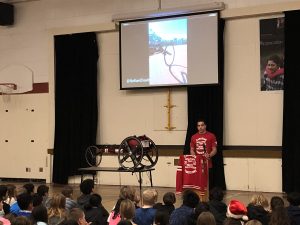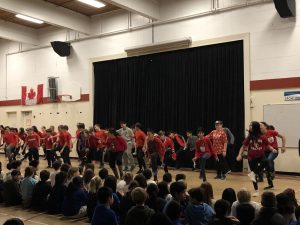 Amazing things happen every day at West Bay. Honestly, the list of highlights goes on and on! As you can see, West Bay had a very busy first term – but busy in the best possible way as the learning inspired our minds and hearts. I can't wait to see what the second term has in store for our community of learners!
Happy Holidays and best wishes for a wonderful 2019!