Meet the Team-Part Two
October 23, 2019 - 8 minutes read
Here at West Bay our educators are passionate, highly trained, and dedicated to providing the best possible education for our students. In my last blog post, I introduced you to our classroom teachers. Working alongside our classroom teachers are a talented and professional group of teachers who take on a variety of roles.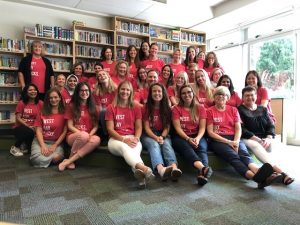 Mrs. Espenhain: Our IB coordinator collaborates with all our staff to make sure we are meeting the standards and practices set out by the IB. More importantly, she mentors the staff, leads professional development, and pushes us to be current and effective educators. It's a fitting role for Mrs. Espenhain as she herself embodies the IB Learner Profile, constantly learning, travelling and setting goals for herself. When not at school you will most likely see her running, hiking the Grouse Grind or planning her next adventure around the world.
Ms. Curling: She always has a smile on her face which is part of what makes her an excellent school counselor. Ms. Curling works at both West Bay and Cypress Park. In her role as school counselor, she supports students to develop skills (friendships skills, communication skills, self-advocacy skills) or supports them with strategies to manage feelings of anxiety, sadness, or loneliness. Ms. Curling might work with students one-on-one, in small groups or in our classrooms.  She has an amazing ability to connect with students in a gentle and unassuming manner.
Mrs. Walker: An avid lover of all things outdoors (camping, skiing, canoeing, hiking) Mrs. Walker is one of our two learning support teachers. She collaborates with teachers to support them to meet the diverse needs of our learners. You will find Mrs. Walker working in classrooms as well as with small groups of children teaching skills like reading, writing, math and even executive function skills.
Ms. Smith: One to stand out with her bold purple hair, Ms. Smith is passionate about making sure all students are successful. She works alongside Mrs. Walker as a learning support teacher. Overseeing and supporting our education assistants is another responsibility of our learning support teachers, and Ms. Smith works with a team of 6 EA's to ensure that students' needs are being met. Ms. Smith has an uncanny knack for knowing just what a student needs and when they need it.
Mrs. Babul: A colleague once said about Mrs. Babul that simply being in her presence will make you a better person and that she always sees the best in you even when you don't. Mrs. Babul is an exceptional educator and here at West Bay works with our students who are learning English as an additional language as one of our English Language Learning teachers. She works in classrooms and also with students in small groups. She is passionate about helping all of our students understand the importance of language and culture.
Mrs. Irish: We are so pleased to welcome Mrs. Irish to West Bay this year as an ELL teacher. She works part-time at West Bay and Irwin Park where she has been a classroom teacher for many years. Mrs. Irish is known for her infectious laugh, big smile, and positive attitude–she is also willing to take on any challenge whether big or small, is a risk-taker and has an uncanny ability to run around in heels all day:).  She also is a phenomenal cook–her spring rolls are amazing!
Ms. Gibli: Ms. Gibli is known for courageousness and ability to take risks– after all, she gives fourth graders recorders! Our melodic music teacher is always willing to take on a challenge and is eager to learn. She is passionate about indigenous education and is keen to share what she learns with her students and is always thinking about her next big musical.
Ms. Oancea: Our very own Romanian rock star! Ms. Oancea teaches music to our youngest students and is always keen to write a new song for them to share and perform. Her passion for music and teaching is well established and we are so pleased to have her back at West Bay.
Mr. McLean: You will have to look carefully to find Mr. McLean as he is only here on Thursdays and his classroom is the stage, but you can follow the sound of children singing to get to him. Mr. McLean teaches music to our grade one students. He has been teaching music for over 20 years and has come to West Bay via Mulgrave School. His knowledge and expertise are a welcome addition to our music department.
Mme deLaplante: Joy is the word the comes to mind when thinking of Mme. deLaplante. She brings joy to her French classroom and instills a joyful attitude to the acquisition of a second language. Always ready to try something new, sing, dance or join a new initiative Mme. deLaplante is fun to be around and a wonderful asset to the West Bay wolf pack.
Mrs. Hunt: Can be found in the school learning commons usually finding just the right book for a student or teacher. She has been a fixture at West Bay long enough to outlast 6 principals. She is knowledgeable, patient, and ever so gifted at reading a story. She keeps our library humming and is a passionate educator. She also has the most amazing collection of PEZ dispensers that she keeps at both WB library and at Westcot.
Mrs. Paterson: This year Mrs. Paterson is teaching career education to grade 7 and applied design and skills to grade 2. Mrs. Paterson's biggest challenge is remembering she only works here at West Bay 2 half days because she is always trying to do more and fit in every amazing opportunity for our students. If it is loud, exciting and a great learning opportunity chances are it was Mrs. Paterson's idea! When not working at West Bay Mrs. Paterson works as an educational consultant across Canada and has recently published a book for educators.
You may not have had a chance to meet these non-enrolling teachers yet, but your children certainly have and have benefited from their support and instruction. Next time you are in the school stop and introduce yourself. They are very proud of the work they do and are always happy to share with you and learn more about your children.​