Meet the Team-Part One
August 30, 2019 - 11 minutes read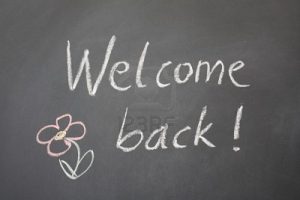 Back to school 2019! I am so pleased to welcome everyone to the 2019-2020 school year. Our facilities crews have been busy making sure the building and grounds are ready for everyone and our teachers have been buzzing like busy bees getting their classrooms set up and lesson plans ready for the start of a new school year.  Whether this is your child's first year with us or their last, it is always an exciting time for everyone. We are welcoming some new staff to the West Bay team and I thought I'd introduce our classroom teachers to you in my first blog of the school year.
Rhonda Griffin: Mrs. Griffin teaches Kindergarten. She is an expert at gently and expertly welcoming in our youngest learners and setting them on the right track for learning. She is organized, efficient, and has the best stories to read. She is the busy mother of twin boys who play hockey and baseball and keep her on her toes. She has a heart of gold and works tirelessly for her students.
Chantelle McGrath: She was born to teach Kindergarten. With her sparkling personality and never ending energy she keeps up with those kindies like the energizer bunny. She is passionate about supporting students and families. She has a busy toddler at home and never seems phased by anything. You would be amazed at what she empowers the little ones to do!
Carolyn Huggett: Ms. Huggett will be your child's best friend. Not only is she an amazing educator she is a world traveler, and friend of the planet. She rides her bike to work no matter the weather and is a great example for our students of an internationally minded educator. Ms. Huggett teaches grade one with humility, passion, and grace. She has a not so secret addiction to podcasts and as such is always very well informed.
Chrysta Millhouse: If you need something done Ms. Millhouse is the one to do it! She not only teaches grade one, but she is also our sunshine gal, always there when someone needs a hug, a chocolate bar, or to help them celebrate. Each year she and her son organize our West Bay wolves team for the BC Children's Hospital Child Run and every other year she chops her hair for Wigs for Kids.
Leanne Campa: Mrs. Campa teaches grade two. She is always first to complete a task and is on top of all things. She is always the first teacher to hand in her report cards! Mrs. Campa has worked at West Bay for almost 15 years and is an expert with 7 year old children. She is a lifelong learner and is looking for new opportunities. She recently completed a diploma program in ELL.
Claudia Ng: Ms. Ng is new to West Bay and comes with a wealth of experience from overseas in Hong Kong and just down the street from North Vancouver. A fun fact about Ms. Ng is that she taught Ms. Millhouse's son last year! She is a mother to a busy two year old at home and originally hails from Saskatoon.
Natalie Smyl: We are so excited to welcome Ms. Smyl to West Bay (again). Ms. Smyl is no stranger to West Bay as she completed her teaching practicum here with Mrs. DeLazzer and Mrs. Charleton. Returning from maternity leave Ms. Smyl has a beautiful one year old daughter to take care of so will be sharing her classroom with Mrs. Sun. When she can find free time Ms. Smyl loves to travel, hike and run the seawall.
Jane Standfield: Ms. Standfield is an expert third grade teacher, but sometimes gets mistaken for one of her students because she isn't much taller than them. She is the teacher on staff that everyone seeks out for parenting advice because she has raised three successful children herself. Ms. Standfield likes to dance and can always be found advocating for her students.
Elaine Sun: Mrs. Sun will be teaching grade three with Mrs. Smyl. When not teaching or raising her two young daughters you will find Mrs. Sun shopping. She is amazing at getting a deal and always has something new for her students and classroom. Mrs. Sun is unflappable and always a calm presence in the building.
Bailey Hathaway: Ms. Bailey is a risk-taker and has taught both ends of the elementary spectrum Kindergarten and grade seven and this year has settled in the middle in grade four. Ms. Bailey is an animal lover and one of many vegans on staff. Most recently, Ms. Bailey has been volunteering on a farm. She is up for any challenge and passionate about making schools a safe place for everyone.
Jessica Richardson: Our new vice-principal comes to us from Irwin Park. She will be teaching grade four this year. Mrs. Richardson is a busy mother of two who loves being outdoors and is currently working on her master's degree. She has taught in West Vancouver for the last 14 years and began her career teaching high school in Japan. Mrs. Richardson loves teaching so much she even married a teacher! She is very excited to join the West Bay team and get to know our community.
Morag Kelpin: Did you know that before becoming a teacher Mrs. Kelpin was a pediatric nurse? She has also raised three children and recently completed her master's degree in the area of reading disabilities. She is passionate about teaching kids to read and has an almost magic touch. Mrs. Kelpin loves to be involved and can usually be found running a club, helping with the school musical or supporting a sports team, all while teaching grade five.
John Zaleski: Mr. Zaleski can often be found cracking a joke or planning a prank on a fellow colleague. He is a fun-loving staff member who always lightens the mood, but don't let that fool you. Mr. Zaleski takes teaching grade five very seriously, and is always working hard and trying out new ideas. When not teaching, Mr. Zaleski is an avid outdoorsman and recharges by being outside.
Amy Flett: New to West Bay via Westcot, Ms. Flett is full of energy and vigor for teaching. She is passionate about outdoor education and loves inquiry teaching. She loves to garden and can't wait to pick the fruits and veggies growing in our garden. You will certainly see her coaching one of our sports teams and if you are really lucky you might meet her dog, Steve.
Mimi Ross: When Ms. Ross does something she jumps in with both feet. Her passion for her students is infectious and her laugh is as big as her heart. She has a way of connecting with students that puts her students at ease and allows them to be risk takers with their learning. She also has the best music playlists ever! She has unusual passion for donuts.
Kevin Darling: Grade seven takes a special skill set to teach and Mr. Darling has it in spades. Not only is he an exceptional teacher, but he is also a talented dancer and an avid cross fitter! Mr. Darling loves his portable and is often the first one in each morning. Mr. Darling always has the best costumes (especially at Halloween). And if you think you are seeing double, don't worry it just might be Mr. Darling's identical twin brother.
Jessica Lee: Ms. Lee has joined us from an IB school in Thailand. She has a master's degree in educational leadership and almost ten years of experience teaching at IB schools. She is excited to be back in Canada and on the North Shore. You can find Ms. Lee in the grade seven portable and when not there, she is mostly likely rock climbing!
I am so very proud to lead this exceptional group of educators who care for your children each and every day. However they don't do this work alone. There are a number of non-enrolling educators that support our classroom teachers in all the work they do. Please stay tuned for part two of this blog where I will introduce all of our support staff.