Design Thinking and Making
February 13, 2017 - 7 minutes read
I remember certain aspects of my first year at high school, but what I often reflect upon are my experiences in Home Economics 8. We received half a year of instruction in each of Cooking and Sewing. The former was certainly my favourite as I wasn't very skilled at sewing pockets onto my apron. How was one supposed to align the pattern on the two pieces of fabric? It was a rather frustrating exercise. Cooking, on the other hand, was more my strength (or perhaps, my interest). I learned to accurately measure flour by using a knife, wash and peel carrots using the proper technique, and cook vegetables until they were 'crisply tender'. The fact I even remember these tips years later tells me I must have been engaged in my learning!
The redesigned BC curriculum includes a curricular area entitled 'Applied Design, Skills, and Technologies' (ADST). According to the Ministry of Education, "The ability to design and make, acquire skills as needed, and apply technologies is important in the world today and a key aspect of educating citizens for the future".
Students in Grades K-5 are given opportunities to develop foundations in the ADST curriculum. Teachers provide learning activities focusing on exploration and play to foster students' wonderings and natural curiosities. While designing and making products, students develop their creative and critical thinking skills, communication skills, and their personal and social competencies, including cooperating and sharing with others.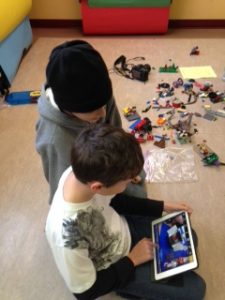 At the Grade 6 and 7 level, the new ADST curriculum encompasses 'Cooking' and 'Sewing' (Food Studies and Textiles) yet so much more. In addition to Home Economics, it includes content from Business Education, Information Technology, Technology Education, and Media Arts. There are twelve areas of study, all of high interest and relevance for our contemporary learners who continue to develop their design thinking and foundation skills. When promoting this design mindset students are developing their metacognitive skills. They are encouraged to continuously reflect on their work, test their designs and make modifications and adjustments for improvement.
Our teachers are delving into this curriculum enthusiastically, yet with thoughtful planning. Implementation looks different at the varying grade levels as activities must be developmentally appropriate and tailored to meet the needs of the learners. As with any new curriculum or educational initiative, potential hurdles must be considered in order to provide safe, yet enriched and meaningful learning opportunities. The implementation process is key and as such, we are considering the following:
What aspects of the ADST curriculum are we already addressing?
How can we enhance existing practices?
How might we embed aspects of the ADST curriculum in a transdisciplinary (cross-curricular) manner?
What delivery options make the most sense for our Grade 6 and 7 teachers and learners?
How can we best utilize our teachers' diverse strengths and passions to deliver the ADST curriculum?
What resources and facilities will we need to consider when implementing the ADST curriculum?
What conversations with the high schools are needed regarding course offerings to support the transition from Grade 7 to 8?
Of the twelve modules included in the ADST curriculum, not all need to be explored in elementary school. Students in Grade 6 and 7 must experience a minimum of three at each grade. Some modules are being addressed by integrating content in other curricular areas whereas some are offered to students as 'electives'.  For example, Grade 6 teachers Andy Lee and Jessica Miller offer "Tech and Design" and "Digital Photography/Film" respectively as part the Grade 6 and 7 exploratory rotations.
Grade 6 students worked on designing and building derby cars out of wood. This was such a popular activity, teacher Andy Lee and I are working with our Facilities department to determine where to store the wood and tools needed for future projects. We have allocated an outdoor storage area for this purpose. This is an example of the conversations that need to happen for a safe, effective implementation process to occur.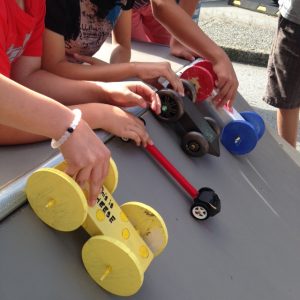 To address the module on Digital Literacy, our Grade 6 and 7 students heard presentations from Jesse Miller, social media expert. Mr. Miller advised the Ministry on appropriate content for the new ADST curriculum. The information he shares with students promotes healthy, safe engagement in social media and raises awareness of how one's digital footprint matters. In addition to Jesse Miller's presentation, students also learned about online safety and cyber-bullying from the Children of the Street Society.
As our world rapidly changes so must the curriculum – and it certainly has changed. In particular, the ADST curriculum addresses this sense of urgency by providing opportunities for our youngest students to develop skills in design thinking and making which are essential for many careers now and in the future. Through exposure to these diverse opportunities we hope students grasp onto an area of interest and pursue it with enthusiasm and joy. I am eager to see how the ADST curriculum takes shape in the next few years as we continue to refine our practice, share ideas, and address those key implementation questions. What an important direction for schools to be heading and an exciting time to be a young learner.