Creating A Thinking School
August 25, 2017 - 5 minutes read
As we launch a new school year, it is my hope that it is one full of joyful learning. The West Bay staff enthusiastically looks forward to welcoming students back to school. September is a time to start discovering the passions that lie within each learner and what curiosities await exploration. Throughout the year we want students to be active participants in their learning.
I continue to be mindful of how best we should and could be preparing our students to be productive citizens, ones who can successfully secure jobs of the future. I believe that elementary school is an important leg of an individual's learning journey where attitudes are shaped, the love of learning is fostered and the vital skills and competencies needed to be successful in our world are developed.  Certainly we owe it to our students to keep the end in mind.
In a recent blog post I shared how our school direction for the next three years will focus on developing students' critical thinking competency.  This is one of the three interrelated core competencies identified in the BC Curriculum. I look forward to many professional development opportunities, conversations and student learning that will enhance critical thinking at West Bay.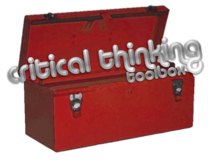 In order to foster critical thinking, we must have a common understanding of what it means to be a critical thinker.  According to Gini-Newman and Case in their book Creating Thinking Classrooms, critical thinking entails looking at the merits and shortcomings of things in order to make thoughtful judgments. The authors also note, "a trait of a good thinker is an ongoing attitude of self-reflection. Teaching students to think critically includes getting them to question why they disagree with the opinions of others and it does not mean teaching them to discount the opinions of others." When teaching students the skills involved in critical thinking our hope is that they are able to successfully transfer these skills to other contexts.
The new Applied Design, Skills and Technologies (ADST) curriculum affords students the opportunity to apply critical thinking skills when they are developing, designing, analyzing, and critiquing products and information. We look forward to the new learning space on the stage which will be devoted to exploration and hands-on designing and making. Students will have ongoing opportunities to engage in activities that cultivate thoughtful thinking. Pictured below is District Robotics Teacher Todd Ablett, sharing how robots are being used in our world today.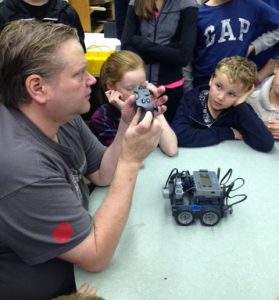 Over the last five years I have been intrigued to learn what researchers and experts have identified as skills needed for jobs of the future. Education expert Tony Wagner investigated the education sector, interviewed industry leaders and studied the global workforce in order to identify seven survival skills of the future. Critical thinking and problem-solving skills topped the list. In order for companies to compete in the new global economy, they need workers to "think about how to continuously improve their products, processes, or services".  Executives repeatedly told Wagner that the heart of critical thinking and problem-solving skills is the ability to ask the right questions.  Access Wagner's article here.
In only a few years the skills considered important today will likely change. The chart below extracted from the World Economic Forum report, The Future of Jobs, reinforces the importance of students learning how to be critical thinkers. Both complex problem-solving and critical thinking are forecast to be at the top of the chart in 2020.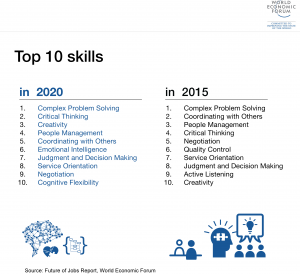 "Education must enable one to sift and weigh evidence, to discern the true from the false, the real from the unreal, and the facts from the fiction. The function of education, therefore, is to teach one to think intensively and to think critically."     (Martin Luther King, Jr.)
This year my hope is that we continue to build upon the fine work teachers have already been doing to create a 'thinking school', one in which students embrace and view critical challenges as meaningful learning opportunities. In response to our changing world, Gini-Newman and Case encourage schools to instill thinking as the fundamental orientation to teaching and learning. I am confident we are on track with our critical thinking focus and heading in not only an exciting direction, but one that is relevant and much needed in our evolving world.