Hollyburn Elementary School
Programs and Services
Seamless Day
The Seamless Day program provides continuous care and support for children from the early morning, throughout the school day, and into the early evening. The in-school setting paired with familiar educators allow for smoother transitions and more predictable routines. Consistent and continuous care are extremely beneficial for the holistic development and well-being of the children they provide for.
Please click here for more information.
Band & Music
Hollyburn Elementary is pleased to offer a dynamic Band and Choir program under the direction of Mr. Feige. The Band program has two levels: Beginning and Intermediate. The Beginning Level is geared towards Grade 6 or 7 students with no experience on any band instrument, while Intermediate Band is designed for students who have at least one-year experience.
Here are just a few benefits for children involved in a band
program:
Students develop discipline and pride while learning to play an instrument;
Band is a true team sport – everyone works together and everyone "wins";
Research shows that students who study music perform better in other subject areas;
Students are prepared for high-level instruction and fun involvement in band at the secondary level.
If your child is interested in joining the band program, please fill out a band registration form available on the district website.
Any questions, comments, or concerns you may have please contact cfeige@wvschools.ca.
We are looking forward to a fantastic year of celebrating the Arts. ​
ELL
At Hollyburn Elementary School, English Language Learners (ELL) are supported using a variety of methods. Students may be given instruction in a small group setting. Students will focus on learning new vocabulary, sentence and paragraph structure, English grammar, and Canadian customs. Additionally, students may be supported through a "push-in" model. ELL students may work in class with support from an ELL teacher, or work in a small group on classroom themed activities. We strive to further your child's understanding of the English language at his or her individual level.
For more information on our ELL program please click on the button below.
Click on the image below to download the ELL brochure.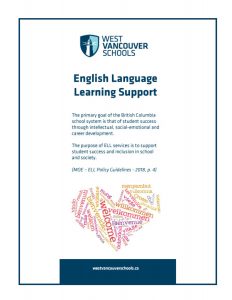 Active Living and Sports at Hollyburn Elementary School
Sports & Athletics
Participating in Active Living and Sports in school is a great experience.
You develop new skills
You have fun
It makes you feel good,
You get to try new sports
You get to be part of a school team
It is an important part of leading an active and healthy lifestyle
You make new friends and meet new people
You get to represent Hollyburn at district events, and
You could raise money for a good cause (ie: Terry Fox Run),
We encourage every student to be involved in the school's active living and sports program.
What sports can I play at Elementary School?
Months
September & October
October – December
January & February
April & May
May & June
Sport
Cross Country
Basketball
Volleyball
Ultimate Frisbee
Track & Field