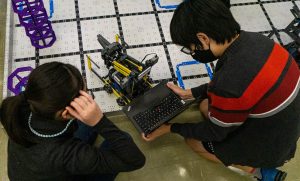 For Females & Males entering Grades 3 & 4
The GO-Bots program provides students, Grades 3 & 4, with the opportunity to explore and develop a beginning understanding of robotics, mechatronics, physics & design. Students will not only participate in a variety of challenges throughout the school year, but they will also have the opportunity to participate in in-classroom competitions throughout the school year.
The goal for the students in the GO-Bots program is to build robots using the VEX GO system, working individually or in small teams to design, build and test various robots. These hands-on experiences require a willingness of students to take risks, not worry about making mistakes, and to persevere.