The magic of inter-generational connection
November 23, 2017 - 11 minutes read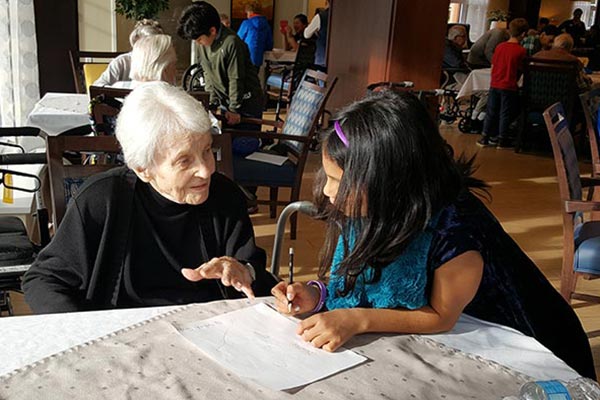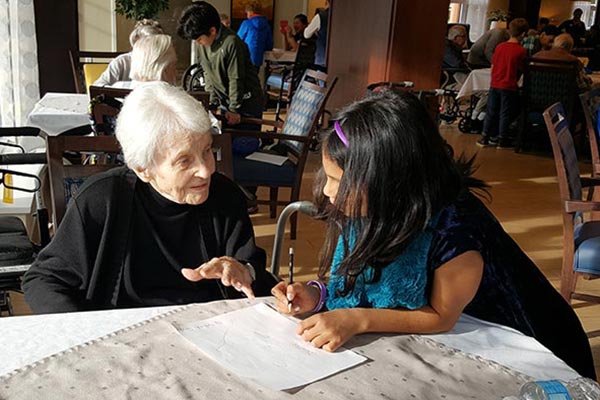 Something very cool is going on between a class of Grade 4/5 students at Westcot Elementary and seniors living in residence at Maison Senior Living, thanks to the work of teacher Sandy Kwan.
Every three weeks, Sandy's students walk to the facility to spend an hour with seniors residing there – up from once a month, at the request of staff at the residence — who say the visits are a huge hit among seniors. Special bonds have developed between the students and seniors living on site, through interactions involving art, song, games and reading. The initiative is now in its second year, and some of Sandy's students have been with her since its inception.
"I like how we can connect with the seniors because it makes us happy and them happy," says student Karissa Kirkwood, currently in Grade 5. "If some have a grumpy day we can usually fix it, which is always fun."
Today, we're living longer than ever, and that's hard on aging seniors, many of whom face declining mobility, diminishing physical and mental vigour and the loss of friends or relatives they may have known for a lifetime. As revealed in the recently released 2017 Vital Signs report, West Vancouver has a high concentration of senior citizens with a low walkability score. The resulting isolation and loneliness experienced by many older generations has a serious impact on health and well-being, so connection with community and young people plays an important role in alleviating some of those issues.
There are benefits for the students as well. Unlike many societies, living arrangements in Canada have traditionally been limited to the nuclear family, limiting opportunities for children to see the process of aging. While the latest data suggests those trends are changing across Canada, Sandy says that this project introduces students to issues around aging at an important point in their lives.
"Aging is inevitable, but it is rare for young people to really think about what it means for themselves or even for their own parents," explains Sandy, who brought the initiative to West Vancouver after successfully trying it with students in another district. "When we teach them to have empathy for what's coming, they become more empathetic, and will be able to see it coming, even for their own parents and even as teenagers, who then show more patience with older generations."
Sandy works hard to prepare her students in advance of each session, teaching them about things like moodiness and memory loss, and finding ways to make a connection through common experience.
"This involves a lot of prep for the teacher, but it's important to help them find ways to adapt and to employ flexible thinking," says Sandy. "They're learning to value what older generations have to offer by hearing about their jobs, their kids, their stories while they were young, and they can see the impact they're having first hand. Last year, 6 out of 8 times, when we would be done for the day, one or more of the seniors would be in tears, and some of the students would be, too – they didn't want the hour to be over."
Myah Issley, who is also taking part in the program for her second year, loves the program. She is keen to continue visiting the seniors with her family, even after she moves into Grade 6.
"I've learned that it's really different each time – sometimes they are really grumpy, but most of the time they're happy," she says. There is this one senior that was so happy about our visit, she wanted to get us chocolate, and she really thought she had some. She was trying to get up, and we had to spend some time reassuring her that it was OK."
Karissa talks about the day that a group of boys were playing ball, and a senior, confined to a wheelchair and feeling a little down, began to play catch with them. "It was amazing, and very fun to watch them having such a great time," she says.
Sandy says they've found unique ways to connect, including sharing Pokemon cards, which they explained to the seniors as similar to hockey cards that they traded in the days of the Quebec Nordiques.
"They were bringing Pokemon cards as birthday gifts, and the seniors just loved it," she says. "Our backup is always reading, because their memories and capabilities are quite variable. But we carry a book and walk it down there, and it's like these seniors turn 10 again, and they are killing themselves laughing."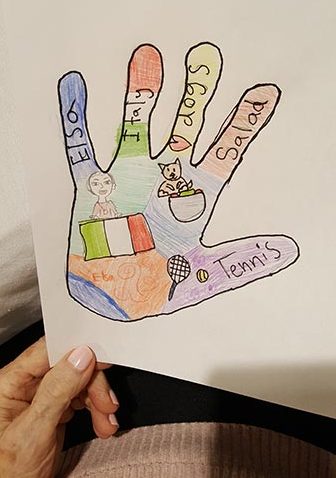 Shayan Madjnouni says his favourite thing about the program is how well his teacher sets up the projects. Sandy works with the kids on concepts like touch and balance to help them incorporate an understanding of the needs and limitations facing older generations.
"Before this last visit, we traced hands at school first, and then we turned it into this 3-D drawing," he explains. "We did it at school and made hearts as well, and when we did it at the senior's centre, it created a physical connection – like we have to hold their hand to do this."
Sandy says the hand tracing project was designed so that students could physically touch the seniors and let them know they are touchable and loved. The students then drew and wrote things about them inside the traced drawing that they had told the children about, including stories from their past.
"One lady told Karissa that she will cherish this hand drawing forever," says Sandy. "Frieda, our 'negative Nelly', was holding her doll and asleep until she saw Julian again, and she awoke with a huge smile and stroked his hair and said, 'he's a real one!' Once again, pure magic and always, so, so sad to leave and go back to school. We could visit and chat all day…."
The students sang to the seniors as a choir on two to three occasions last year, and were pleasantly surprised to find that the seniors had loved it so much, about 35 of them have established their own choir and reciprocated for the children. They share Christmas cards, music, directed drawing, art and discussion.
"Kids are amazing at being so loving, even when they don't know what they're going to get out of it on any given day," says Sandy. "We play memory games with cards, find pairs, keep things moving, and they're learning to adapt to the tone and abilities of the senior residents. We have so much fun – one lady last year gave us a huge laugh when she said she was sick of hearing everything around her, and asked – hey, you guys want my hearing aid?'."
Sandy says that some of the more simple lessons are around etiquette when you're going out into the community. Thirty kids at once can create a lot of noise, and they have learned ways to minimize the disruption and to accommodate the seniors' limitations by exiting slowly, smoothly and meaningfully, and incorporating a 5-minute transition, because it takes some of the seniors a little bit of time to realize that the students are leaving. In her 23 years as an educator, Sandy says this is the best thing.
"We're all so emotional when we get out of there, because we've made a genuine human connection – you really see the value of this program in the kids," she relates. "The walk home is quieter because they're internalizing it and processing it, and many don't have grandparents, because they don't have living grandparents or they're overseas, so there's no 'elderly' in a lot of their lives."
Sandy's initiative is changing lives in positive ways, and the whole class is taking part in something that is truly a class act.
Click to expand the images above.