Story and history
November 21, 2017 - 7 minutes read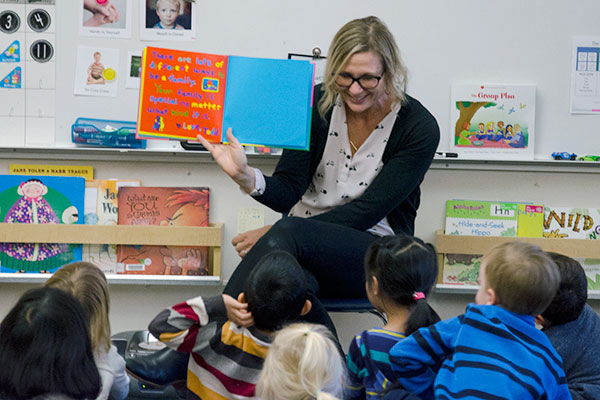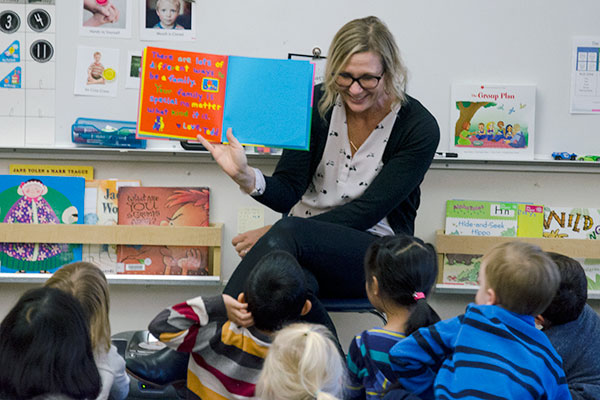 Story is powerful. Just ask Andrea Anderson, a teacher at Cypress Park Elementary school, where she has spent the last 15 years teaching students from Kindergarten through Grade 2.
"I had just moved to the North Shore and heard about this unique, little school and was dying to be a part of it," says Andrea. "Initially, I had heard that it was a very arty school and teaching art is a passion of mine, so that was very attractive."
The story of Cypress Park Elementary school goes back 100 years, and Andrea says that it's a school that very much considers students and staff, past and present, part of the family. It's an apt introduction to her next classroom inquiry project – What is your family's story?  It's just one of the ways she will introduce the 19 Kindergarten students in her class this year to the theme of heritage, which also helps students learn perspective.
To begin the project, Andrea's students are listening intently to a story she's reading, called The Family Book. She ends the story with a reminder for the class to bring in their family photos before dismissal for the day.
"Teaching Kindergarten gives you insight and perspective on how the learning journey begins," explains Andrea, who job shares with teacher Bea Sedgwick. "Everything has to be very structured and you need to break everything down. Years of experience help a teacher develop tested and tried techniques and I really love how collaborative this little school is. In addition I have the ability to bounce ideas off of Bea."
Andrea always knew that she wanted to teach. Her father was a teacher and an artist, and she recalls him coming home with journals to mark while playing with her best friend, who also became a teacher.
"She'd have her classroom on the bed, and I'd have mine on the floor. We'd play like that together for hours, with hardly a word to one another, and I guess it stuck with me."
Andrea did her undergraduate degree in history, and has diplomas in English as a Second Language and Special Education. She later did her Master's degree at the University of British Columbia in language and literacy.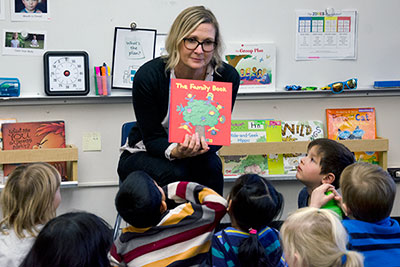 In addition to reading and writing, Andrea loves art, inspired by growing up in a family of artists. The first year she was at the school, she invited her father, a retired art teacher, to paint three beautiful paintings with the children, which are hung on school property. Whenever there's a special art inquiry, she invites him back to assist.
"I strive to find the joy in teaching," says Andrea. "I like to laugh, dance and celebrate accomplishments often with the kids. The little learners are the most keen, and they grow so much as the little people and as learners, it's so rewarding to see how far they come in a year."
Andrea often takes her students for lessons outside in the surrounding forest. This year, one of the areas the children love has been called "Kindergarten Mountain". They do math outside, including finding objects to sort, making number stories with pine cones, learning how things move by rolling them down a hill to find out which moves faster.
"We're so blessed to be nestled in a forest and so close to the beach," says Andrea. "My teaching partner and I feel very passionate about having the students drive our learning."
Last year Cypress Park did a whole school multi-age project called what math lives in a garden? The students planned the plants that would grow in the allowed time, determined what was needed in terms of soil and measurements, and then took a trip to West Vancouver Secondary School so that the high school students could help the younger students in grades K-3 make planter boxes for the garden.
Andrea also took on the role of head teacher for a few months last year, and took a lead role in planning the school's centennial.
"We knew our building was 50 years old, but in collaboration with Alys Shantz, a parent and photographer at the school, we found out that our school existed 100 years ago," says Andrea. "Then the journey began, as the whole school began an inquiry with the question, what is our CP story?"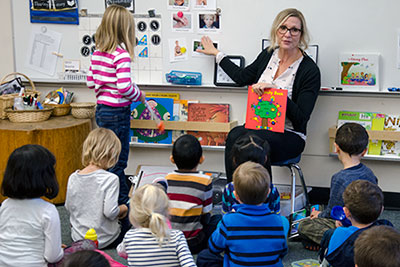 The school invited guests to help with the story, including Bob Baker (S7aplek), who came in to share First Nations stories about the area, and Amber Pascual, who was there when the school reopened with just two classes. They dug up old photo books, and as the school librarian at the time, she asked students to investigate the differences and similarities in old vs. newer photographs. The entire school tapped into their favourite places, and created an art piece to share at a large celebration in February, 2017.
Andrea strives for balance in her personal and work life. She has two active boys, aged 7 and 9, and her husband teaches the 'big kids' as a college instructor.
"If I'm organized, calm and balanced, I'm a much better teacher," she says. "You need a lot of patience in Kindergarten – you can't let the small things rattle you."
To help with that balance, Andrea and her family take advantage of the North Shore's abundant trails, mountains and recreational opportunities. They ski in winter and camp in the summer. In between, Andrea spends time on her own as well.
"I love to get outside! What's necessary for me is a weekly nature bath – a hike or run on the trails."
Thank you for the many lives you've changed in your 15 years with the district, Andrea!