Orange Shirt Day – Working towards Reconciliation in West Vancouver
September 20, 2017 - 2 minutes read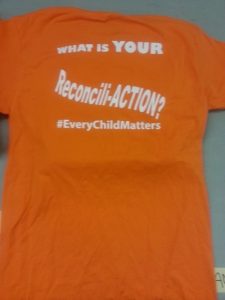 by Lynne Tomlinson, Director of Instruction
O Siẏáṁs
West Vancouver School District respectfully honours and acknowledges the history and culture of the Skwxwú7mesh Nation, in whose territory we reside.  We focus on programs and opportunities within our schools to support the academic and social success of students of Aboriginal ancestry, as well as to provide opportunities for education for all our students and families reflecting the rich history, current issues and culture of First Nations, Metis and Inuit people in Canada.
Reconciliation is not a one-time event.  We are not "done" when we finish teaching a few units on the history of Residential schools in Canada.  Reconciliation engages us in social and learning processes that help us create a new understanding of a shared colonial history. Current education policies, processes and curriculum in this province are committed to the rethinking of relationships with Indigenous peoples in post-settler societies.
Reconciliation is an ongoing process and as educators, we are responsible for getting history right.  Orange Shirt Day is an opportunity for West Vancouver staff, students and parents to acknowledge, discuss and learn from the history of Residential schools in this country and the importance of the Truth and Reconciliation Commission's ninety-four "Calls to Action".
B.C.'s revised curriculum, including the story of Phyllis (Jack) Webstad's first experience in the Mission Residential School will enhance students' learning as they engage in an intentional and active process of critical thinking that embraces a broader lens, including Indigenous knowledge and perspectives. September 30th has been declared Orange Shirt Day annually in British Columbia, in recognition of the harm the Residential school system did to children's sense of self-esteem and well-being, and as an affirmation of our commitment to ensure that everyone around us matters.
In the wise words of Dr. Thomas King, (The Truth About Stories, 2005), "Don't say in the years to come that you would have lived your life differently if only you had heard this story.  You've heard it now".