Dance inspires teaching career
December 19, 2017 - 4 minutes read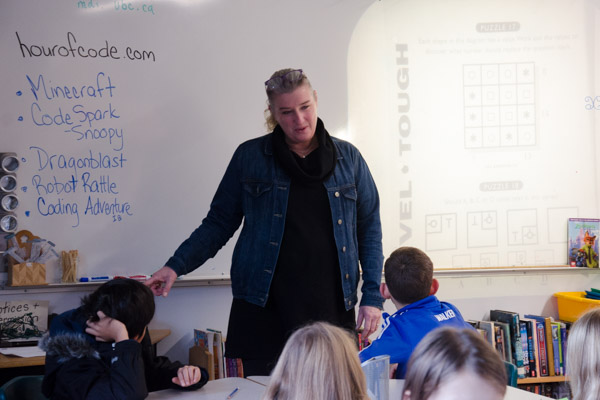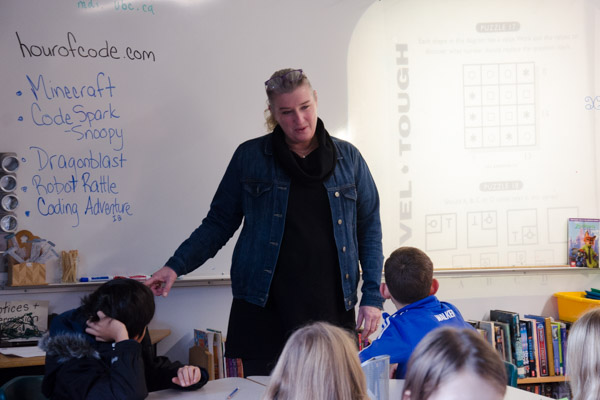 Angela Foster, currently teaching a Grade 4/5 class at Gleneagles Ch'axáý Elementary school, says laughter is important, both inside and outside the classroom. As someone who works and lives in the same community, joy comes easily when connections are so strong.
"I feel incredibly proud to be part of this community," says Angela. "The community is very supportive, welcoming and I love that everyone looks out for one another. When we first moved here, one parent said that it is the type of community where if your child walks to a friend's house, everyone watches along the way from their own homes to make sure your child reaches their destination safely. It's a nice feeling."
Angela has worked for the district for 20 years in various teaching roles, beginning with a practicum at West Bay, and a first year at Bowen Island Community School. In the interim, she has also worked at Ridgeview and Hollyburn, but has spent most of her teaching career at Gleneagles Ch'axáý.
Angela has a dance background, and initially wanted to teach ballet and jazz and open her own school. A desire to have a family of her own and her love for teaching younger students drew her naturally to teaching. She attended UBC with a focus on Physical Education and Germanic Studies, followed by a teaching degree.
"Being a dance instructor would have meant being in lessons after school, often until 8 p.m.," she says. "I coach all the sports except for basketball, and have enjoyed choreographing various dance numbers for school musicals or class activities, including the Thriller Dance for Halloween."
Angela and her husband have two boys, both of whom have attended Gleneagles Ch'axáý.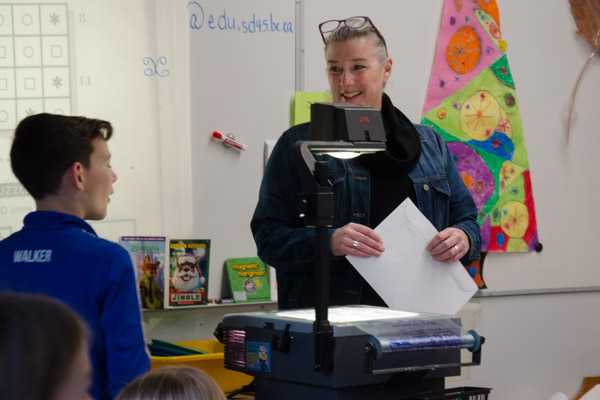 "I have always felt so extremely lucky to have has them at the school that I teach at," she says. "They are always there, and have felt comfortable with me there as well."
Like many busy working parents, one of the biggest challenges for Angela is juggling family and work, but she feels blessed to have such a supportive school community and teaching partner to help keep things together. She also says that finding supportive people who stick together and get along well is important for anyone new to the district.
"I feel very lucky to be working at a school where we generally all respect one another, and help one another out – all the time," she says. "I do believe this is a special school that way – our staff is so lovely, and supportive."
As an arts integrated school, teachers at Gleneagles Ch'axáý incorporate an arts based focus into inquiry projects. Angela uses the LAUNCH design cycle, a Science Technology Engineering, Arts and Math (S.T.E.A.M.) inquiry cycle to kick start the creative inquiry work in her classroom. Her favourite recent project was building an igloo using milk cartons, which she says was challenging, but highly rewarding.
As an energetic, sports-minded person, it's no surprise that Angela's family is very active and enjoys the outdoors. Together, they hike, cycle, ski and kayak, taking full advantage of the beautiful North Shore, and she spends as much of her spare time as possible with her two boys. The family also has a big, energetic dog that requires a twice daily walk, so they're always on the move!