Daily Health Check
November 26, 2021 - 1 minute read
Families are asked to complete a daily health check for their children before coming to school – please do not send a sick child to school.
k-12 daily health check-poster-USE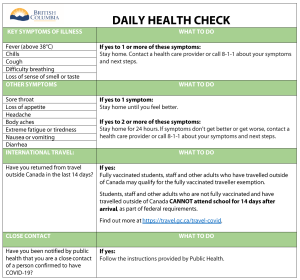 You may wish to use the BC CDC online tool/app.
Know Before you Go! International Travel for Unvaccinated Children
With international borders opening up and more Canadians looking to travel, families are reminded that students who are not fully vaccinated cannot attend school for 14 days following their return to Canada from any international destination including short trips to the US. This is mandatory even if the unvaccinated student has received a negative test and travelled with fully vaccinated parents. Fully Covid vaccinated students can return to school after international travel with the required Covid negative test.  We encourage all families to carefully review the Canada Border Services information when making travel plans.