What do Waffles have to do with Executive Functioning?
December 14, 2016 - 4 minutes read
Executive functioning is a term that refers to eight skills that help people plan, organize, and complete a task. They help to support other cognitive skills. We use our executive functioning skills everyday and they are key skills for school success. Students use executive functioning skills to complete a project, write a paper or study for an exam.
The eight executive functioning skills are:
Impulse control: helps us to stop and think before acting.
Flexibility: allows us to adjust to the unexpected.
Emotional Control: helps us to keep our emotions in check.
Initiation: allows us to take action and get started.
Working Memory: the ability to hold information in mind to complete a task.
Planning and prioritizing: helps us decide on a goal and make a plan to reach it.
Self-Monitoring: allows us to evaluate how we are doing.
Organization: helps us to keep track of things both physically and mentally.
Over the past few weeks I've had a number of conversations with teachers, parents, and members of our student support team (speech language pathologists, psychologist) about the importance of these skills, especially as our students get older and we expect more of them and strive to develop their independence.
This past weekend, my son asked to make waffles together. The weather was snowy; we had no place to rush off to (and for a hockey parent this is rare) so we embarked upon the task. My son is almost nine years old and fairly independent, but required support as we found the recipe and started to read through it. He had to remember the list of ingredients as he gathered them from around the kitchen, then go back and reread the recipe and work his way step by step through the process. Watching him struggle and figure things out, and stepping in where necessary it occurred to me that this task was an ideal opportunity for him to develop his executive functioning skills.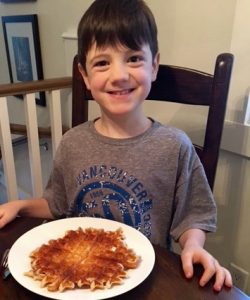 There were so many lessons learned in the thirty minute process of making waffles. For example, he could easily see that ½ cup was a larger quantity then ¼ cup but wondered why the digit on the bottom was larger for the smaller quantity. He was also able to tell me about the chemical change happening that turned a liquid into a solid when heated, as he had just been discussing this concept in his science class.
Spending time at home over the holidays in the kitchen with our children is such a valuable opportunity. There are studies that show children who spending time cooking, baking, and preparing food have a higher fruit and vegetable intake and a decreased rate of obesity. Cooking in itself is an essential life skill that we all need. But more importantly, preparing food together as a family is a way to build memories, pass down family traditions, and connect. I encourage you to spend some time with your children in the kitchen, your children will love it and it will pay numerous dividends. I wish you all a happy holiday and a joyous new year.