After an 18 month journey of communication, collaboration, funding appeals, and coordination, we were thrilled to welcome the Stream of Dreams organization to GEC for 3 days in April.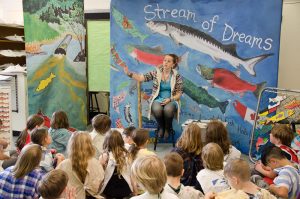 The Stream of Dreams is an organization committed to "…helping communities discover their local watershed, become stewards for salmon and all aquatic creatures. We believe in the integrity of our science to art process and embrace optimism to create lasting meaningful results. Our murals represent hope for a future with healthy watersheds. "
The results of their work combined with the artistic talents of GEC students and staff were fabulous. Many of the visiting team commented on the level of artistic talent and context that so many students demonstrated in their work with the fish design.
Each class, K-7,  was provided with a 45-minute discussion and presentation with Stream of Dreams educators discussion the importance of protecting our fresh and saltwater sources, including streams, rivers, lakes, and oceans. Whether it was the importance of disposing of batteries and used paint and oil or a reflection upon how much we all take our fresh water sources for granted. All of it was relevant to the present but most of all our choices moving forth.
Once the interest was peaked and awareness sparked, students immediately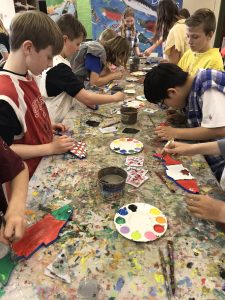 moved into our Art Studio where Stream Of Dreams staff was waiting to support students in designing a wooden template of a fish. Students were provided with high-quality exterior house paint in an array of colours. The expectations were fairly straightforward: no words, trademarked symbols or graphics; simply use your imagination and design. The results as stated before were fabulous. But the best was yet to come.
On day 3, close to 10-12 parent volunteers braved the cold wind and an early shower to join us in securing our fish to the exterior Marine Drive fence of our school. Here the Gleneagles Ch'axáý fish are displayed in a swirling school; sizzling like our Squamish language namesake. The end result was something that we can all be proud of in not only making our school grounds and site more beautiful but as a visual reminder to all of the responsibility we share to protect and preserve the waters around us.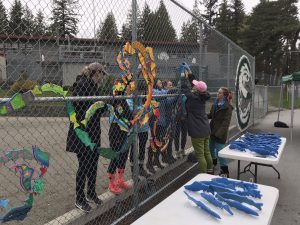 However, long before the design process actually came to be this project started with a proposal and the support of a number stakeholders. Ms. Pistilli, our school Administrative Assistant was instrumental in the communication that enabled this project to come together. In addition, funding from both the GPAC and The Pacific Salmon Foundation was instrumental and we are very grateful for this financial support. Krystal Brennan, the Stream of Dreams instructor and school liaison was also invaluable throughout this process.