MakerSpace Magic…Robotics 101 @ GEC!
March 31, 2017 - 8 minutes read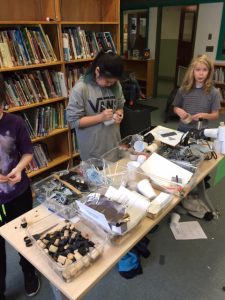 Gleneagles Ch'axáý is so fortunate to have such a progressive and innovative Teacher-Librarian in Mrs. Michelle Davis. Mrs.Davis has successfully created a space in our Learning Commons that is truly enviable.
Not only is the design and layout of our Learning Commons a true treasure within the bricks and mortar of GEC, but the MakerSpace that Mrs. Davis has created is equally exciting. So much so that the work of Mrs. Davis and her colleagues, in the area of MakerSpace Design, has been nationally recognized in the form of a Canadian Innovators in Education Award in 2015-16. I should note, before I move on, that coupled with this leadership and forward thinking, and integral to our success as a school, is a very supportive Parent Advisory Committee; who has generously provided a significant portion of the financial support to develop our GEC MakerSpace. We are very grateful for the support of our parent group.
So what is a MakerSpace you may ask?
Mrs. Davis, a published author on the topic, describes it as follows… "In the simplest terms, a Makerspace is a place that enables "student making"; it inspires creation, invites problem-solving, risk-taking, collaboration and experimentation; it encourages our students to identify as "creators of content", rather than mere consumers of it."  
It has been well documented that these skills are increasingly valuable for youth to acquire in their educational experience in order to prepare them to meet the demands of professions of the 21st century economy. More and more references in both research and media refer to the strong need to provide learning experiences that prompt kids to: take thoughtful risks; practice persistence in their problem solving while working through the creative process;  and most importantly, collaborate effectively to tap the potential of the collective.
The BC Ministry of Education has heeded this calling and integrated a full scope of learning outcomes in the newly revised curriculum. Teachers are being asked to integrate these aspects of Applied Design, Skills and Technologies in both elementary and secondary environments. While many of these skills are already practiced daily in classrooms around the West Vancouver School District, what better way to engage GEC students in the MakerSpace Movement than exploring and creating with Robots.
Most recently 3 of our intermediate classes ranging between Grade 5-7 were engaged in a Robotics Module with the goal being to address the new ADST Curriculum, but also to  introduce the concept of Robotics in an engaging and supportive environment.
With the terrific teacher leadership of Michelle Davis, teacher Charity Cantlie and support and expertise of WV District Innovation Teacher, Cari Wilson, the students rotated through a series of 6 Robotics Stations.  These stations, thoughtfully planned and tailored by our teaching team, were trialed on 3 classes, and the experience was nothing short of fabulous. Student engagement and curiosity was at an all-time high.
The stations prompted students to work collaboratively to solve various challenges posed by our teaching team. You can read more about these challenges and the actual robots used in Cari Wilson's recent blog post entitled "Robots are Fun!".  Her specificity and background knowledge is something to be reckoned with; and to top that…she is a former Gleneagles graduate! My summary below is a just a brief review of the stations created by our team but pales in comparison to Cari's account. If time allows I encourage you to read her post.
Whether it was (STATION 1) working with our 2 Spheros' and library iPads, integrating coding skills to program the spherical machines; or (STATION 2) taking the complexity of the VEX Robotic station, which looked more like a opening Pandora's box of Lego pieces and instruction manuals; the students involved were engaged and curious.  Stations were also more simplistic with the 'Maker-Mindset' being given the green light at (STATION 3) the "Build Your Own Robot Station", where students worked with hands-on materials like cups, cardboard, and tape, among many other collected treasures, to build their own robot. Literacy was addressed (STATION 4) as students were engaged in creating an online story that was robot related using the iPad app, Storybird. One of the most popular stations (STATION 5) involved the GEC Learning Commons owned Cubelets, where students were encouraged to explore the nearly infinite combinations that can be created with these motorized, programmable cubes. Check out the Twitter video of Hudson explaining his creation to me. The final station (STATION 6) involved an examination of Asimov's Laws of Robotics. These maxims have a long history behind them, which students engaged in a variety of ways.
Most importantly, kids were able to think critically, create and communicate in an environment that permitted risk-taking and mistakes but rewarded by patience, persistence and open mindedness.   These are crucial elements of the new Core Competencies recently introduced by the BC Ministry of Education.
While the experience with 3 classes was filled with some terrific learning, the teachers would be the first to admit that there were definitely a number of bumps along the way. The modules were far from perfect due to the occasional technical issue, but it was a testament to educators collaborating effectively to extend student learning in a direction that has yet to be completed charted. Risk taking and collaboration like this is a  strong example of the 21st century skills we are trying to embed further into our students as we move forth on our learning journey. A huge thank you to Mrs. Davis, Mrs. Cantlie and Mrs. Wilson for their amazing vision, effort and hard work to put such an experience together.
Stay tuned: Robotics Module 2.0 coming soon….starring our Gr 4/5 cohort of students!
Check out more at our Twitter account @gleneagles_news