A guest post from Gleneagles Ch'axay intermediate teacher, Mrs. Cantlie about a recent student experience.  
In the spirit of reconciliation, the Revised BC Ministry of Education curriculum places an emphasis on the great importance of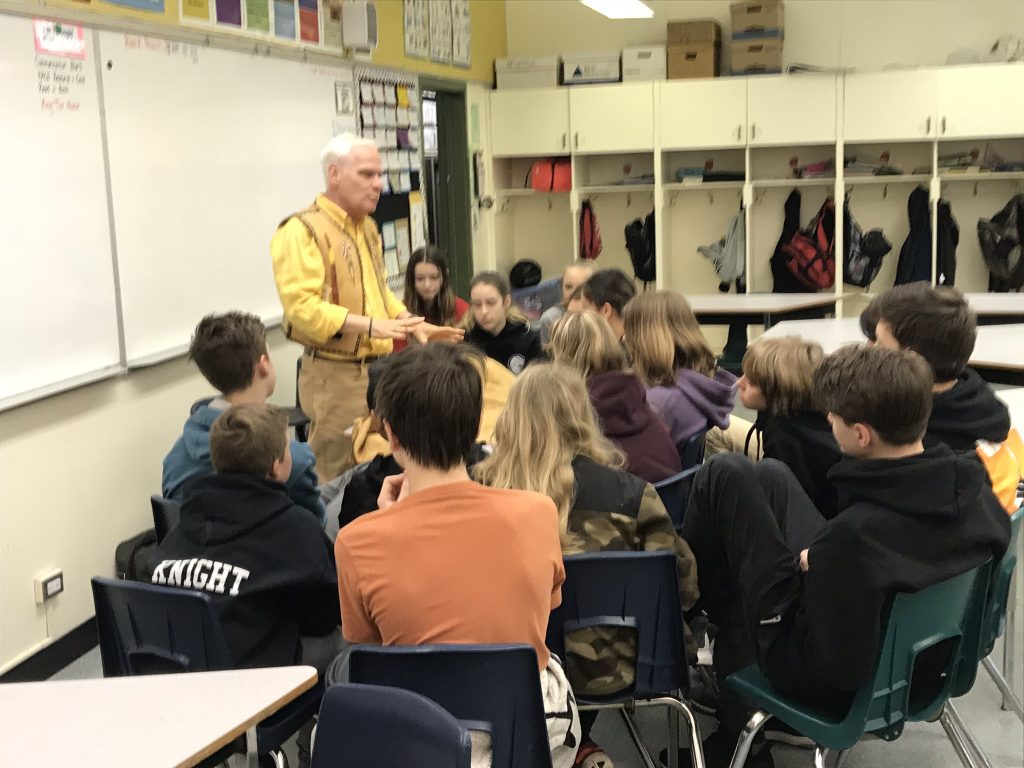 teaching students about First Peoples' culture and traditions. Gleneagles Ch'axay has always been keen to welcome opportunities that provide our students with a better understanding of the incredibly rich history of the First Peoples and how these learnings can better shape our thinking and perspectives as we move forth.
Learning takes patience and time. This is one of the First Peoples Principles of Learning that has been a focus for our year. After watching Ray Mckeown, a Lakota Metis elder, demonstrate quillwork using porcupine quills and various tools from the natural world, our grades 6 and 7 students gained first-hand knowledge of what it takes to truly understand the significance of what this means in application.
Students reflected on their experience and wondered how the elders "…gained so much wisdom about life, the land, and their culture." (Cyrus)
Wyatt Pride said, "I really liked how they had so many activities to do and how we got to interact with the stations."
Students had the opportunity to find out more about the voyageurs by listening to The Red Sash story and participating in a simulated trading post learning engagement.
Another station involved finger weaving with elder Mechtild Morin. We quickly learned the patience and time involved in completing the beautiful sashes worn by the Metis as we tried our hand at making a smaller version of our own.
During lunch, we enjoyed tasting Bannock made by Mr. Bannock who owns a local Squamish Nation company and food truck.
Finally, we ended the day by joining the V'ni Dansi dance company for a Red River Jig along with Keith Hill, our fiddler accompanist. We had the opportunity to learn about cultural artifacts and join in bringing age old traditions to life. Overall, a spectacular day of learning for our intermediates. They were respectful, open-minded and spoke enthusiastically about the opportunity.
Many thanks to our parent volunteers: Mrs. Jones and Mrs. Lines, and to our staff: Mr. Cummings (our resident storyteller), Mrs. Crowdis, Mrs. Jones, Mrs. Sprinkle and Mrs. Spicer for their support and contributions to a wonderful day of learning.