This school year, in order to better reflect the direction of revised BC Curriculum and the established goals for all students in the areas of Applied Design, Skills and Technology, GEC has embarked on a revised Framework for Enhancing Student Learning.
In an effort to maintain our strong focus upon the arts, while taking advantage of our already well established Makerspace in the GEC Learning Commons, the school will seek to enhance student exposure to STEAM (Science, Tech, Engineering/Design, Art, Math) learning opportunities in order to improve students' problem solving skills and critical thinking. While this applies particularly to our Intermediate students at Gleneagles Ch'axay, our Primary students will also benefit as it will provide them with a variety of opportunities to experiment with new technologies and enhance their creative experiences and problem-solving skills.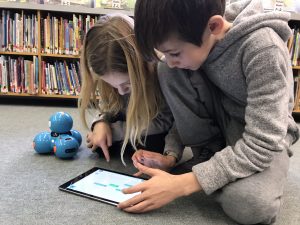 With this slight change in direction, GEC was able to secure the financial support of our GPAC to enable us to take part in a 6 day learning module with Zen Maker Labs. What came of this collaborative learning process, has provided both teachers and students with a strong foundation in skills and experiences to explore ADST & STEAM related concepts in greater depth.
Zen Maker Labs is a North Vancouver organization run by Cyri Jones. The group offers after-school learning opportunities and various camps, at its North Vancouver location, for kids of all ages to explore the concepts of design and creation, using technologies like 3D printers, Block Coding, robotics and a number of other applications. With the hard work and innovative thinking of Kristi Yorke, the GEC Teacher Librarian, Zen Maker Labs was able to provide a number of design experiences and learning opportunities for students ranging from KG to Gr 7.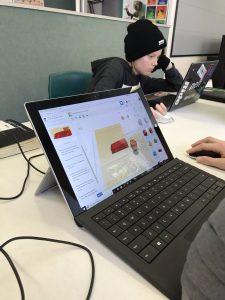 Over the course of 6 weeks, the Zen Maker Lab brought its equipment to our site and transformed our Learning Commons into a Makerlab. Students were scheduled in each Thursday for various opportunities to learn 3 main areas of design. While primary students explored the basics of digital animation, our intermediate students were able to take on more advanced design tasks. Students in Grades 4-7 were introduced to the intricacies of Tinkercad, a CAD (computer aided design) application used to create the blueprints for 3D printed designs. In addition, the students were also taught to use Stop Motion Animation techniques that utilized "Green Screen Technologies"; thus allowing groups to create video clips with imported backgrounds and voice overs by simply utilizing a widely available iPad application.
There were a number of incredible genuine learning moments over the course of the 6 days, however, what struck me most was the incredible student engagement that I witnessed, amongst students using Tinkercad. Described as "…a simple online 3D design and 3D printing application for everyone" Tinkercad is used by designers, hobbyists, teachers and kids alike to make toys, prototypes, models, jewelry, and equipment. The list of things to be created is truly endless. While the Zen Maker Lab instructors left each of our intermediate students with some homework in regard to the work that they did in their Zen sessions, many students took to going above and beyond in their designs continuing to manipulate their digital designs with precision and accuracy.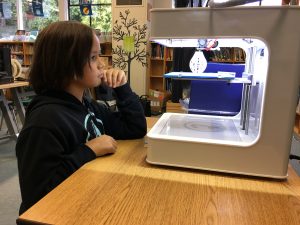 While the real draw of 3D printing for most comes from the device physically printing an actual plastic design in front of you; the real skill comes in the design process required to provide the printer with an object to print. This is where Tinkercad comes into play. Using a digital plane, and a selection of 3-dimensional starter shapes, Tinkercad provides the user with a number of ways to augment and manipulate the size, shape, depth, and contours of the user's chosen object. Here is where skill, patience, and precision is required. An improper CAD design will result in an improper 3D print, therefore it sometimes requires numerous design attempts to perfect a print; thus the learning and the need to be resilient and persistent as a designer. What is even more appealing about Tinkercad, is that the application provides an endless supply of projects that are presented to the user in an illustrated, step-by-step sequence to allow learners to progress at their own pace. This removes any intimidation and individualizes the learning as well.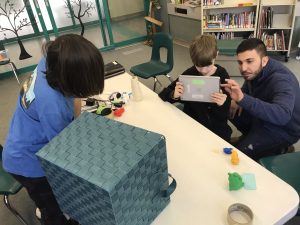 All of the Zen Maker Lab experiences provided a glimpse, for both teachers and students alike, as to the extent that digital design can enhance creative ideas and take them further towards making them a reality. Experiences like these force students to face a variety of design challenges and work through obstacles in productive and meaningful ways. Whether it be calling on the help of a peer who has a knack for a certain facet of design or simply persisting through a 'trial and error' process until something finally works; all of these experiences are vital in the further development of skills in the 3 areas of the Core Competencies identified by the BC Ministry of Education as being vital for our learners to succeed in an ever changing future.
What's more is that a number of our intermediate teachers were able to take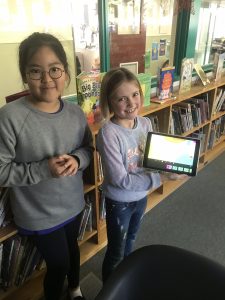 these experiences and immediately integrate them into their current Units of Inquiry, allowing students to have the choice to express their understanding in a different way using the skills they had learned in their Zen Maker Lab sessions and integrate them into their current classroom learning. For example, some students took to designing the setting(s) of their novel study using Tinkercad; while a Gr ¾ class were tasked with creating a Stop Motion video explaining the process of photosynthesis for their science inquiry. A Grade 6/7 cohort who used the Green Screen to create makeshift television weather reports in French. In order to extend student interest and engagement in 3D Printing, Ms. Cantlie, a member of our Gr 6/7 team, has organized for all Gr 7 students to visit Caulfeild Elementary to learn from their 3D Printing experiences and perhaps create the foundation for some bridge activities in the future. All of these are great examples as to how by providing teachers and students with experiences in various design technologies, there is a strong likelihood of them taking the learning further in their own way due simply to their own motivation and curiosity.
A huge thanks goes to our GPAC for their incredible support but also to Ms. Kristi Yorke, our teacher librarian,  and teachers Charity Cantlie and Regina Koot for their amazing leadership and initiative in organizing this program for our school community. None of this would have been possible without the fantastic support of our District Innovation Teacher, Cari Wilson who has mentored our students and staff for the past 5 years.  Thanks as well to Cyri and his crew for adapting to our needs and being solution oriented when obstacles arose. We are thrilled to be offering a Zen Maker Lab after school activity opportunity in the Spring Term so that students can continue discovering and building further capacity in this area of digital design.