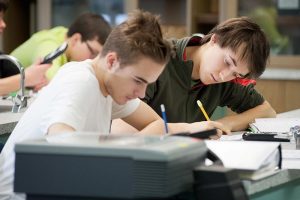 Sentinel will be instituting a Flexible Instructional Time (FIT) block for the 2019-2020 school year for all students.
The purpose of the FIT block is: to provide students with time and flexibility to address the new Career Education competencies and content; meet with teachers for support, guidance or inspiration regarding specific curriculum,  or other passions and interests ; collaborate with students, teachers, or community members; and explore, work on, or complete assignments and projects.
FIT time is a period of Instructional Time built into the daily schedule that allows students to have some measure of choice and control over their own learning.

During FIT, students are expected to be in a classroom or learning space, completing school work either individually or in groups, meeting with teachers for support on classwork, working on projects under teacher supervision or getting caught up on missed work.
Student Expectations for FIT
Learning focused

Be in a learning space

Have a plan for the time

Have all materials required

Remain in the learning space you selected
---