Local families and students raise more than $3500 to support children and families facing cancer
June 20, 2016 - 3 minutes read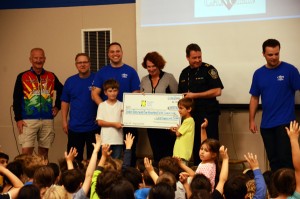 WEST VANCOUVER – West Vancouver Schools recently partnered with the West Vancouver Police Department (WVPD) to support the Cops for Cancer Tour de Coast through a Toonie Drive at each elementary school site. Students at Sentinel Secondary school also held a pancake breakfast on June 3rd to support WVPD officers taking part in the ride and the 365Give program at Ecole Pauline Johnson Elementary School conducted additional bake sales and other fundraising activities.
Each September, police officers from around BC ride in fundraising bicycle tours to help the Canadian Cancer Society in the fight against childhood cancers. Cst. Jeff Guiel and Cst. Craig Petrie of the WVPD are training and fundraising now for the Cops for Cancer Tour de Coast, a nine-day bicycle tour across the Lower Mainland, Sunshine Coast and Sea-to-Sky corridor September 21-29th. Each Cops for Cancer rider commits to raise a minimum of $6000 for the Canadian Cancer Society.
The West Vancouver Schools Cops for Cancer Toonie Drive ran May 16-27, raising $1701.41. The Sentinel Secondary School Pancake Breakfast raised $1756.00. West Vancouver Schools Board Chair Carolyn Broady presented the total donation of $3557.41 for the Canadian Cancer Society to Chief Cst. Len Goerke today during an assembly at Ecole Pauline Johnson Elementary School.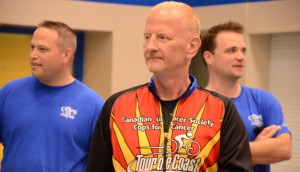 "A cancer diagnosis is always difficult, but when the disease strikes someone so young, the impact on families is devastating," says West Vancouver Schools Superintendent Chris Kennedy. "We wish the riders a very successful campaign and a successful ride in support of this important cause."
Donations to Cops for Cancer support life-saving research and patient care programs including Camp Good Times in Maple Ridge, a specialized summer camp for children facing a cancer journey.
"Cops for Cancer is about inspirational kids, committed cops and caring communities," says WVPD Chief Cst Len Goerke. "We are grateful for a second year of help from students and parents in West Vancouver, as our officers work to support children and families fighting cancer."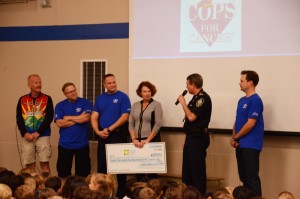 On behalf of the Canadian Cancer Society, Cst. Guiel and Cst. Petrie thank you for any further support you can offer to this important cause.
For more information about how to support the Cops for Cancer Tour de Coast, please visit www.wvpd.ca and click on the Cops for Cancer Logo.