Learning to teach
December 16, 2015 - 8 minutes read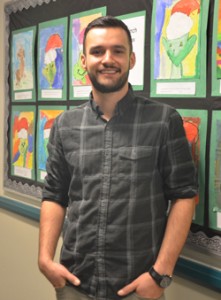 Funny and approachable, Graeme Davies, currently an Educational Assistant at Caulfeild iDEC (Inquiry-based, Digitally Enhanced Community) school, is on a steady path to become a great teacher. This is his third year working for West Vancouver Schools, and he's made some great friends among the students and staff at the school – even becoming the unofficial ambassador of a beloved outdoor game.
Davies graduated from the University of Victoria with a Bachelor of Science. With his background in Geography, he initially considered a career as a professional (flannel wearing, bearded) forester.
"While I'm still bearded and frequently rock the flannel, through the many meaningful and rewarding experiences I have had while working with youth, my professional direction has certainly changed," says Davies. "Working at Caulfeild, I am surrounded by passionate, caring and innovative educators who have inspired me to pursue a career in teaching."
This past September, Davies enrolled in a teacher education program at SFU, attending weekends and evenings.
"It has been great to learn about something on Wednesday evening and see it in action in the classroom on Thursday," says Davies. "I'm looking forward to making the most of this practical learning experience before having a classroom of my own."
Davies was drawn to the district because of its reputation as a great place to work. Before applying, he checked with a few friends in education, and West Vancouver was recommended as a district that supported new employees and encouraged professional growth.
In his current role, Davies works with a Grade 6/7 classroom, supporting students at some stage of their Inquiry cycle. Deeply rooted in the educational structure of the school, inquiry is supported through the use of technology to give students the opportunity to connect with a concept or idea, ask questions about the subject and really drive their own learning and create demonstrations of their knowledge and understanding.
"There is no one proven way to support a student," says Davies. "What worked for one student won't necessarily work for another, so it is important to ensure that support is individualized, focussed first on building a strong relationship."
The relationships that Davies builds with students are definitely the most rewarding part of his job, and he says he enjoys working in smaller groups because it gives him the opportunity to really get to know students.
"As an EA, I often work one-on-one with students, supporting their behavioral, social and academic development," Davies explains. "It has been absolutely wonderful to witness the personal growth in these students over the past three years, and I can't wait to see them transition into the high school environment."
Davies is the 'unofficial' lunch/recess ambassador of a game called Manhunt at Caulfeild. Similar to tag, one kid starts off as 'it', trying to tag as many other kids as they can. If you get tagged, you become part of the 'it' crew, and so it goes until everyone has been tagged.
"I started joining small games of Manhunt during lunch as a way to help facilitate student's social inclusion during outside time – these small games have turned to large games and now a good portion of the student body participates," says Davied. "As the fastest (big) kid at Caulfeild, I am usually chosen/expected to be 'it'. Needless to say one of the more difficult parts of my job has been mastering the post-lunch baby-wipe shower so that I can function in the classroom for the rest of the afternoon."
Davies loves spending time outdoors. Living and working on the North Shore allows him to take advantage of the many nearby recreational opportunities. He enjoys hiking on Cypress, snow-shoeing on Grouse, and biking on Seymour. With ski season upon us he says he will spend much of his free time up in the mountains.
One of the most powerful things about relationships between students and staff in education is that the learning takes place in both directions. Davies' passion for exercise took an interesting turn this past year, as he began to commute to work by bike from his home in North Vancouver. The bike route to Caulfield is relatively flat, but takes a turn for the worst in the last kilometre, where it forks off of Marine drive and continues up Keith Road, rather steeply, to Caulfeild.
"Since day one I had made it a personal goal to ride all the way up the hill without stopping, and I tried to push myself further up the hill every day," says Davies. "It took me half a year, but I had finally managed to get up the first steep section without stopping. One particular day, I woke up and decided this was the day I was going to ride all the way up. Armed with a full hydration pack of water, change of clothes and baby wipes, I set out to conquer the hill."
Things were going great until half-way up, where Davies hit 'the wall'. His foot slipped out of the pedal and, losing the rhythm, he was forced to stop.
"Dejected, sweaty and breathing heavily, I hung my head and pushed my bike up slowly up hill. It was then, from just behind me I heard a cheerful, 'g'morning, Mr. Davies'. Confidentially pedalling up the hill on his full suspension mountain bike and with not a bead of sweat on his forehead, was one of the Grade 5 students at Caulfeild. I watched in amazement as he powered up the entire hill and continued off to school without stopping once. That student has been a personal motivator for me and I have managed to force myself up the Keith Road hill – without stopping – every day since."
Davies' friends and family are pleased that he's found a career that he loves. While he does not yet have children of his own, he has been volunteering with the Big Brothers program for the past three years, and says the organization is in need of new 'Big Brothers' on the North Shore.
"It is a fantastic program and I can attest to the positive impact that it can have on the lives of both the kids and the adults that volunteer their time." Those interested can find out more information at
http://www.bigbrothersvancouver.com or email Davies for more information.
All the best to you, Mr. Davies, on your path to becoming the great teacher you were born to be.