Former teacher and professional pitcher leaves community legacy
October 5, 2015 - 2 minutes read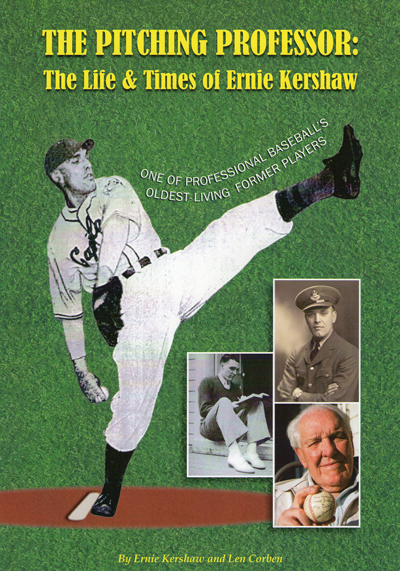 WEST VANCOUVER, BC — A talented, long-lived and beloved former teacher and professional baseball player has left behind a gift that will benefit thousands of local residents. Ernie Kershaw, the 'pitching professor', taught Math at West Vancouver Secondary School for 33 years, retiring in 1973. Following his death in 2012 at age 102, the West Vancouver Community Foundation will receive $50,000 out of a total $200,000 bequest to local organizations.
Kershaw, who died on February 13, 2012, played four seasons with the hometown Vancouver Capilanos and drove a carload of students to every home game. A memoir, penned by well-known writer, Len Corben, "The Pitching Professor: The Life & Times of Ernie Kershaw", recounts his life from his birthplace in Ladner, through his teaching career, service in World War II and his later life with his family in West Vancouver.
"The book was of particular interest to me, as Ernie Kershaw began his teaching career at about the time my grandfather, Charles Kennedy, was teaching at the school in the late 1930s," recalls Superintendent Chris Kennedy. "As a history teacher and huge baseball fan, it's difficult to imagine anything more appealing than a slice of local history, with a backdrop of education, filled with baseball stories."
Former superintendent Geoff Jopson, who is now the Chair of the West Vancouver Community Foundation Board, says Kershaw's legacy is the continuation of a long life devoted to his community.
"Ernie devoted so much to his community over his lifetime," says Jopson. "A teacher really does have an impact forever, because the influence they have over so many lives continues to pay dividends for generations. As in life, long after his death, his story will remain one of a local hero for thousands more."
-30-
For more information:
Bev Pausche
Manager of Communications
West Vancouver Schools
604.828.8045
Delaina Bell
Executive Director
West Vancouver Community Foundation
T. 604.925.8153