The Power of Pride
September 20, 2017 - 3 minutes read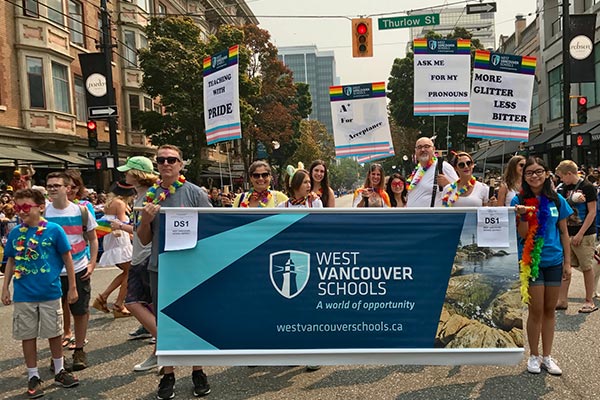 By Maureen Lee
On Sunday August 6th, West Vancouver Schools participated, for the first time, in the Vancouver Pride Society's 39th Pride Parade. An open invitation to staff and family members drew more than 20 people to join Maureen Lee, District Principal of Student Support Services, and Todd Lund, District SOGI (Sexual Orientation and Gender Identity) Lead, in a march along the downtown parade route.
The enthusiastic group carried the district banner and signs with positive messages such as "A+ for Acceptance", "Harry Potter taught me that kids should never live in closets", "Not every girl dreams of Prince Charming" and "More Glitter, Less Bitter." The West Vancouver contingent was met with cheers and encouragement from an appreciative crowd of more than 500,000 people. The beautiful weather, loud music and festive atmosphere were perfect for this grand celebration of accepting yourself and others and living your authentic self.
But the Pride Parade wasn't always a party. The pride movement is generally recognized as beginning with 1969 Stonewall Uprisings, New York City, when the community of Greenwich Village began to protest the mistreatment of gay and lesbian patrons by police. However, the City of Vancouver has even earlier roots on LGBTQ2+ rights activism, which go back to 1958, when homosexuality was still a crime in Canada. And of course, there is the now-famous declaration uttered by Pierre Elliott Trudeau in 1967, that "there's no place for the state in the bedrooms of the nation". Since those early days of protest, many societies have evolved to support and accept LGBTQ2+ people, and the current Pride Parade is largely a time to celebrate diversity.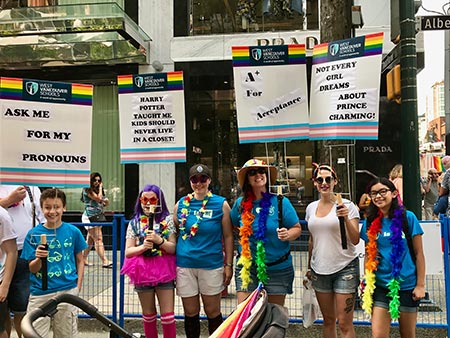 "In terms of SOGI education, it is important for our district to take on a strong leadership role and provide opportunities for LGBTQ+ students to see their lives and experiences reflected back to them, says Todd. "The simple act of being seen in the Pride Parade helps to validate and reinforce the value and self-worth of LGBTQ+ members within in our community."
Although the district has made positive strides in SOGI education, Maureen Lee suggested that there is still more to be done.
"My wish is that someone's sexual orientation or gender identity is a non-issue like the colour of our eyes. It would be great if there wasn't a need for events like the Pride Parade because everyone is celebrated."
In the meantime, Maureen and Todd are already in the early stages of planning for the West Vancouver Schools entry into next year's parade. If you are interested in getting involved, please contact Todd Lund. tlund@wvschools.ca.