Lessons in democracy
May 17, 2017 - 5 minutes read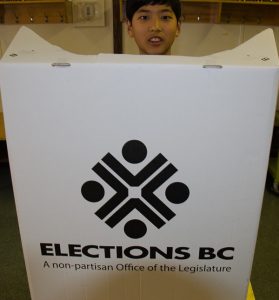 Ji Hoon You and Christina Zhang, both in their first year of Grade 6 Late French Immersion at École Pauline Johnson elementary, are very enthusiastic about their most recent learning experience with the BC Election. The pair were involved, along with many other PJ students, in bringing the three local candidates vying for a spot in the legislature to the school recently to host an all-candidates debate, and then took part in a school-wide mock election as part of the student vote campaign.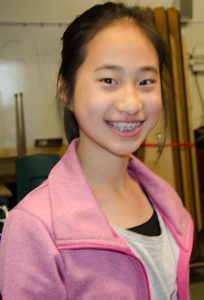 The lessons they learned have lasting value and the inquiry approach, where research leads to additional questions, not only focusses on factual information, but on unearthing and exploring the implications of the information that students find.
"I got more involved in politics and learned a lot about government and the candidates. But we also looked at ways to verify credible vs. not credible information on the Internet, and I think it was a great way to get involved in society through politics," says Christina, who personally met the candidates and escorted them to the debate setting.
"In the beginning of the unit, we talked about different types of governments, like dictatorships and democracy, said Ji Hoon. "One of the main things I learned is that in politics, it's about 60% issues and 40% personality – even if someone's ideas are really great, it's hard to agree with them if they're not likeable."
As first year students together, the pair will be meeting with potential new students currently in Grade 5 on May 24 to tell interested students about their first year experience at the school. At a similar presentation, where they met students in Grades 6 and 7, they heard about the Grade 7 trip to Quebec, both saying that it was the highlight of the presentation.
Each will have something unique to offer in terms of what they value about the school and the Late French Immersion program when they speak to Grade 5 students later this month.
Christina, who entered WVS for the first time this year as a Late French Immersion student when her family moved from another metro area district, already spoke English and Chinese. She says the addition of French has been amazing, but the project-based inquiry approach to learning has also been excellent.
"It's primarily the language of instruction that's different, but at my old school, we relied a lot on worksheets, whereas here we do projects and inquiry," says Christina. "
Ji Hoon, who speaks Korean and English, transferred to the school from another WVS elementary school, because he wanted to learn French. As part of the process, he and his family attended an introduction to the program, and that's when he met students in the grade ahead of him about learned about the school environment and the many programs offered through the school.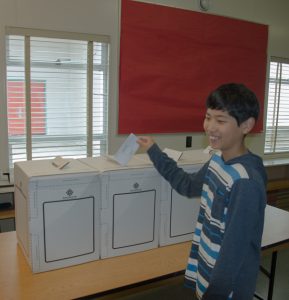 "I like the physical environment and the people in the class," says Ji Hoon. "Because our teacher doesn't allow us to keep objects in the desks, we are able to move around more and are really focussed during class time."
Both students are involved in school and community activities. Christina plays violin and is involved in the West Vancouver Youth Band strings group, plays tennis and swims. Ji Hoon, beginning in Grade 6, studied Tae Kwon Do and piano from age 6 and is involved in master swimming. Currently in Grade 9 music, he also recently received his First Dan Black Belt and took part in the school track club this year.
The school environment featured prominently for both students, who are really excited about the architecture and light in the school and keen to learn in the outdoor environment provided by the school's new École Pauline Johnson Community Outdoor Learning Park, set to open officially on June 2.
Both students plan, at this time, to continue their French Immersion education at École Sentinel Secondary when they finish Grade 7 at École Pauline Johnson. While this has been a year of firsts for each of you, it is clear that you've emerged as leaders in your class and community. Congratulations on a successful student vote and first year at your new school.