If you want something, work for it
June 26, 2017 - 4 minutes read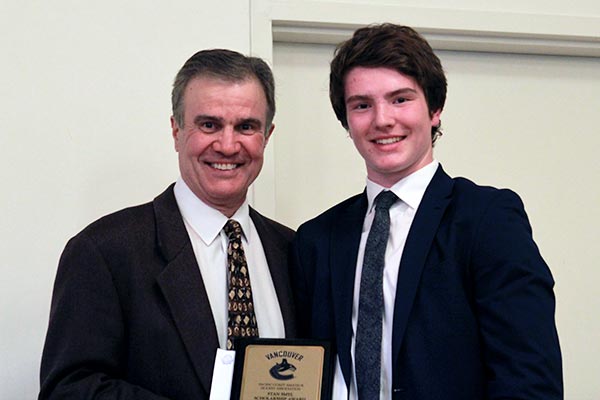 Zack Turpin, first a student at Lions Bay school, and now a 2017 graduate at Rockridge Secondary school, knows that if you want something, you have to work for it — and work he has, building a solid record in the hockey community, contributing back to the sport he loves, and earning a $3000 scholarship, courtesy of the Pacific Coast Amateur Hockey Association, in the process. Zack is the happy recipient of the top overall PCAHA scholarship 'Stan Smyl Scholarship Award', which was presented by Darcy Rota, of the Vancouver Canucks Alumni Association last month.
In the game since he was in Kindergarten, beginning with the West Vancouver Minor Hockey Association, Zack has played for the Nanaimo Bucs, Sicamous Eagles and Oceanside Generals Junior B teams, as well as the North Vancouver Minor Hockey Juvenile A2 team and his Rockridge high school team. He also participated in the Hollyburn Hockey Academy in Grade 8 and on many North Shore Spring teams as well as the Port Moody Panthers Junior B team for 2015-2016.
A referee since the age of 12, Zack's community involvement is also extensive, including volunteer experience at fundraisers and events in Lions Bay and beyond.
Zack will be heading to Thompson Rivers University this fall to start a water technology program, while playing for the Sicamous Eagles. He can take the courses online, allowing him to dedicate even more time to the sport he loves.
"I just want to play at the highest level I can for as long as I can," says Zack. "The hockey community has shaped who I am and I love the competiveness, physicality and teamwork involved."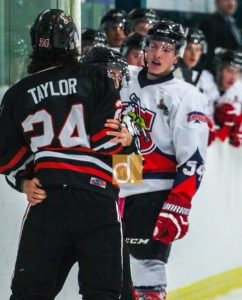 Since his earliest days in the sport, Zack has had to earn half of his registration fees, and did so by collecting pops cans, selling his old toys and clothing at consignment stores. Later, as a referee and a seasonal employee at Cypress and the Furry Creek Golf course, he earned a salary closer to the world of sports. His parents recently returned his contribution to him in the form of a separate RESP, which was a big surprise for Zack.
"One of the kids I met last year started when he was 13, and I would tell anyone starting out that it's all about skills and dedication, and you get what you put into it."
His parents are both extremely proud of their son's achievements in the sport that he loves, but even more pleased that his determination and commitment to succeed has also helped others.
"I personally believe that in part due to his extensive volunteering in the Lions Bay community, WVMHA now has the largest contingent of Lions Bay players it has had in a long time," says Zack's mother, Lisa Turpin, who describes herself as her son's 'rink rat' and #1 fan. "I'm a very lucky mom – he is very humble about his accomplishments and is a really good kid."
Thanks to his hard work, his parents, his coaches and school staff who helped him along the way, Zack is ready for the next chapter of his life. We wish him every success as he leaves Rockridge for post-secondary school and the next phase of his hockey career.