Educator makes learning relevant and global
April 4, 2016 - 8 minutes read
Ho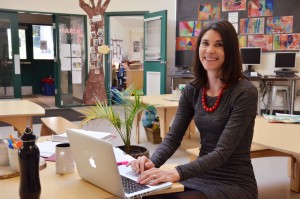 w do you bring communism to life for students who live in the Western world? Morikke Espenhain, Grade 3 teacher and IB Coordinator may have a trick up her sleeve.

Kids aren't the only ones who won big when Morikke Espenhain joined the staff of Cypress Park as a Grade 3 teacher and IB Coordinator. This 17-year teaching veteran fits a lot in on an average school day, which begins at the school at 7:15 am and often doesn't finish until well into the evening. Her colleagues and the families that depend on her expertise in the IB Curriculum know that what she brings to the job really makes a difference for every child, not just the 30 in her regular classroom.
"Morikke's extensive travels and experiences teaching abroad have provided her with a global perspective that enhances teaching and learning," says Principal Judy Duncan. "In her role as IB coordinator, she works with teachers and challenges their thinking, continually exploring ways to make the learning engaging, meaningful and fun. Students often take action as a result of their learning and Morikke enthusiastically supports their ideas and initiatives."
Hailing originally from a small BC town, Morikke knew that she wanted to be near nature and was drawn to the district as one of the smaller ones in the Metro Vancouver area. She brought her Bachelor of Arts in Physical Education from Trinity Western University, a Bachelor of Education from UBC and a Graduate Diploma in English Language Learning, earned at SFU and put them to good use right away in West Vancouver.
Starting with the district in 1999 at West Bay Elementary, Morikke taught Grades 1 and 2. She spent a year teaching Kindergarten at Chartwell before moving to Irwin Park for a short stint, and returning to West Bay in Grade 5. At that point, she expanded her horizons, by taking a leave to teach Grade 3 at the MEF International IB World School in Istanbul, Turkey. On her return, she accepted her current position.
"The jobs were all very different, as each school has its own culture and ways of doing things," says Morikke. "The biggest difference has been moving to Cypress Park and it being such a small school, it sometimes has a very different vibe, a lovely community feel – what remains the same is the passion that all of my colleagues have for their jobs, their students and their spirit of collaboration."
Hardworking and passionate about what she does, some of Morikke's friends come to her for ideas and support in developing inquiry skills and conceptual lessons. That spirit of collaboration and support is something she values more than anything else, and she encourages anyone new to the district to seek it out, work as a team and support one another.
"I love working with teachers to help them develop strong conceptual units that have relevance in our global world," says Morikke. "I also love seeing kids excited about learning. When students feel passionate or excited about what they are doing, they become self-managers; behavior falls away and real learning happens."
As an inquiry teacher, Morikke starts her units with what she calls a 'provocation' – something that really provokes the students into thinking about the concept's focus. Morikke recalls a particularly funny story about a unit that focused on forms of governance that affected students across the school – with every parent in the community in on the joke.
"We wanted our students to understand what communism was like, so we told them that our school had been selected to start wearing uniforms, and that they needed to come on Monday in black pants and white shirts," explains Morikke. "Not five minutes after the bell rang, the news had spread throughout the school. A few of my students were upset, and some were very mad. On Monday, all the students were lined up in uniforms, but they were all holding protest signs and had started petitions."
Teachers then confiscated the protest signs, and were told that they were not interested in their individual opinions. They spent the day in assigned roles that included spying on their fellow classmates, writing odes of praise to Morikke, and contributing to the group society.
"It was hard to keep a straight face, but it was funny to see!," says Morikke. "The activity really sparked an interest in the kids to know about different kinds of governments, once we'd debriefed about the experience."
Much of Morikke's work includes collaboration with other teachers – planning units, brainstorming meaningful assessments and student engagements that will help build their units. She keeps all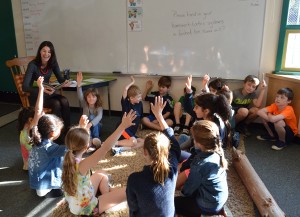 the records for IB current and up-to-date, documents learning for parents and answers parent questions about the program and students.
But her involvement with the IB program goes well beyond paperwork and emails. Recently, Morikke became a workshop leader and site visitor for the International Baccalaureate Organization (IBO), which oversees IB programs in place throughout the district and around the world. Morikke says the experience has been really helpful in her current role as coordinator. From the school and district's perspective, it's quite an honour to have a representative from the school working so closely with the IBO.
Given her many roles at home and at work, it's easy to imagine that work/life balance can become challenging at times. Morikke still carves out time for her own interests and pursuits. She plays on a soccer team, trains for races, enjoys travel and spends as much time with her family as she can. Her husband, Jerry Espenhain, teaches IB Physics and Grade 10 Math at West Vancouver Secondary School. The couple also has a 7-year old daughter who attends school in North Vancouver.
As a long-time teacher who has remained with the district, her work does sometimes spill over in pleasant ways, years apart.
"Sometimes my students come back for a visit after they have graduated from high school or university," says Morikke. "I had one student who also had my husband as a teacher at WVSS. She was a beautiful artist, so she painted our family portrait from a photo she had found."
A painting like that must be worth at least another 1,000 words – or at least a few more decades with West Vancouver Schools, Morikke! Congratulations on a job well done, and we look forward to many more with you at the helm.